Universal Pictures apparently showed the opening sequence from Jurassic World: Fallen Kingdom during their CinemaCon presentation in Las Vegas, and shockingly, it featured some dinosaurs.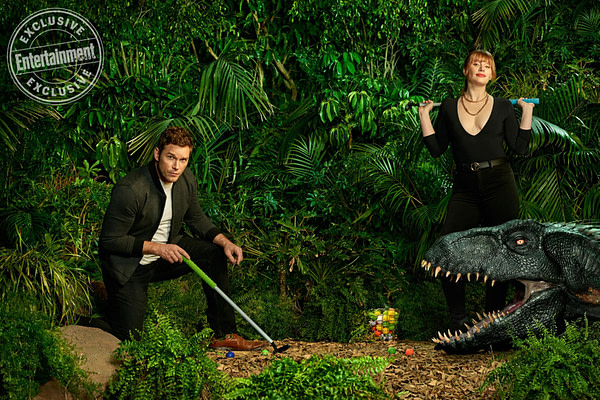 Stars Chris Pratt and Bryce Dallas Howard were on hand to introduce the footage and a new trailer, joking around with the audience.
"The last time I was here I introduced you to Jurassic World, and that movie went on to become the fourth biggest movie in history, so let's do that again, please? Is that a deal?" Pratt inquired of the crowd.
Howard quipped: "After Avengers comes out."
"It could be a great summer for all us," Pratt finished before the footage showed.
Reportedly, the scene (which more than likely will not officially be released, so far only one trailer has been) begins with a small submarine entering the underwater depths of the park at Isla Nublar. The sub's inhabitants saw off some bone from a dead dinosaur, and it floats up and hits the killer-whale-lookin'-guy from Jurassic World.
Then there's a scene shift to show a researcher in the park being chased by the T-Rex at night. The person attempts to escape by grabbing onto a ladder lowered by a rescue helicopter, but of course the T-Rex tries to pull it down. The Rex fails in this, but back in the water, the aquatic toothy not-orca-but-mostly-orca gets his snack.
Following suit of several monster films, there is also a scene of the whale creature making to a highly populated beach where surfers bob in the waves.
There was also the confirmation that Jurassic World: Fallen Kingdom takes place four years after the end of Jurassic World.
Soon as the new trailer hits, we'll make sure we update with it.
Jurassic World: Fallen Kingdom hits theaters on June 22nd, 2018.