We've made the halfway point in our Mozart In The Jungle season 4 discussion, and we've got five episodes to go before finishing out the Amazon Studios original series. We're keeping our fingers crossed that this won't be it for the show.
In s4e5 "The Coach", Rodrigo's (Gael Garcia Bernal) second ghostly mentor Liberace abandoned him because he was "too sad", Hailey (Lola Kirke) finally debuted her ensemble's performance of Caroline Shaw's piece, Thomas (Malcolm McDowell) stole a piece to premiere from the Symphony for his philharmonic, Gloria (Bernadette Peters) was being courted by the Guggenheim museum to take over their directing, and Cynthia (Saffron Burrows) admits that she's injured her wrist further but will not take the time off from what she loves.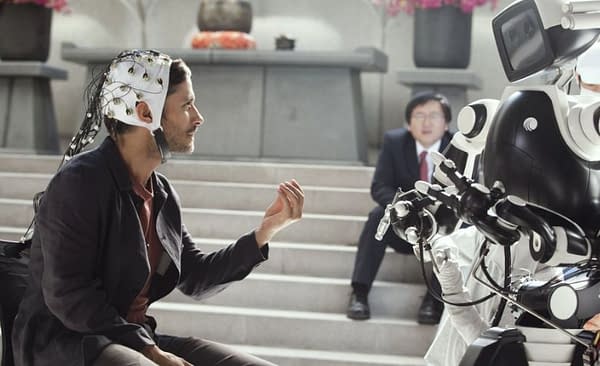 In s4e6 "Domo Arigato":
I'm assuming right off this is when everyone goes to Japan.
The episode opens with a welcoming ceremony for the conductor's competition in a temple
Mr. Fukumoto (Masi Oka) presents Rodrigo a music fold with a new version of Mozart's Requiem, completed by a 'very special composer'
Betty ends up in Japan too, something Gloria isn't too happy about
A man appears out of nowhere, chanting "Rodrigo Is Dead" in Japanese, and he's taken away by security
The conducting competition begins in earnest, and one of the competitors is giving other contestants LITERALLY the evil eye in the wings. Hailey calls him on this.
Fukumoto shows Rodrigo around his special campus, a beautiful location with water features galore. "The theme is Buddhism."
Never date an oboist, they carry knives.
Rodrigo is introduced to the mystery composer who 'finished' Mozart's Requiem, a robot named WAM (voiced by Will Graham)
WAM stands for Wolfgang Amadeus Mozart
WAM wants to learn from Rodrigo about "the blood"
Rodrigo reveals that "The Blood" is love
Hailey is swarmed by young ladies seeking her autograph
Rodrigo convinces Hailey they need to go out and experience Tokyo, and he takes her to the coolest saki bar
An old flame of Thomas's is trying her best to get his attention, but he's being a good boy and staying faithful to Gloria
Rodrigo is given a slip of paper by what he assumes is a superfan, only to be told that there is a widespread belief that the 'real Rodrigo' is dead, and was replaced by a death demon when he cut his hair
It was only a matter of time before we ended up at a karaoke bar
OH GOOD Gloria is going to sing. I am always here for Bernadette singing
And apparently picks up a trumpet too?

Thomas and Rodrigo end up walking around together and going to an arcade
Rodrigo admits to Thomas that Mozart told him NOT to do the requiem, and Thomas responds with "well, that settles it"

Rodrigo introduces WAM conducting, everyone is fascinated by how well he's doing
He unburdens his soul a bit to the robot, and WAM tells Rodrigo that he is incapable of understanding Mozart because he "cannot process data."
Rodrigo reacts unfavorably to this, and says in response "well, you know what Robots CAN'T do?" and makes to throw WAM off a bridge and into the water below.
What an ENDING oh my god.
Enjoyed this article? Share it!