As we informed you earlier today, the official press day for Disney/Marvel's upcoming MCU film Avengers: Infinity War happened in Los Angeles. That of course means there will be some tidbits hitting throughout the day — choice phrases and clips that'll no doubt be making the rounds for the next few days.
The long-hoped-for and rumored team-up of the Marvel-ous ladies of the MCU has been on everyone's mind during this end of Phase 3-beginning of Phase 4 time, the rumors partially revamped when this photo hit the internet.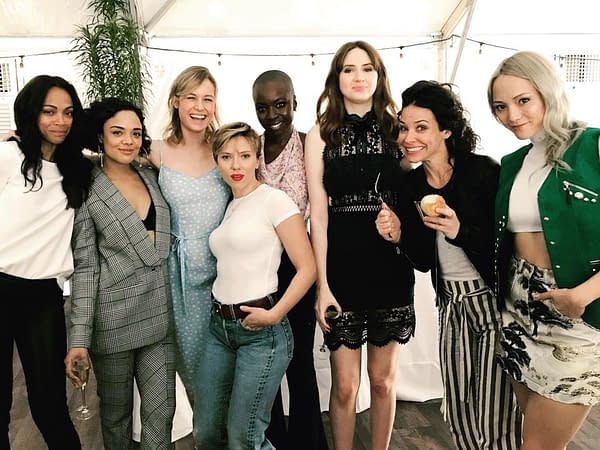 There is also of course Tessa Thompson's comments about the importance of the ladies in the next cinematic phase of the MCU, and Karen Gillan's too, fueling the female fronted team-up film fires.
"I've heard said rumors," Danai Gurira, who plays Okoye leader of the Dora Milaje in Black Panther said today during the junket.
Elizabeth Olsen, who plays Scarlet Witch, said "Me too."
"I've heard no details about that," Gurira added. "I'm just excited about Brie Larson, who is shooting Captain Marvel right now."
There is of course the comments from MCU boss Kevin Feige from back in October of 2017 when he said of the female heroes tag-team:
"It was a pretty amazing moment to be somewhere and have your shoulder get tapped and turn around every female hero we have is standing there going, 'How about it?'" Feige replied. "And I said, 'Yes.'"
"It's all about figuring out when and how," Feige said. "But by the way, many of them have already filmed additional scenes in upcoming movies, so some of that is gonna come sooner rather than later. All of them will be seen again."
"I was just thinking how excited I am about Brie Larson, who's shooting Captain Marvel right now," Gurira continued during the junket. "It'll make the world a better place. I'm looking forward to the future."
Avengers: Infinity War opens on April 27th.
Enjoyed this article? Share it!