Posted in: Interview, Movies | Tagged: Deep Space Nine, ds9, Fathom Events, Ira Stephen Behr, Nana VIsitor, Shout! Factory, star trek, star trek: deep space nine
---
Nana Visitor Chats 'Deep Space Nine', Kira, 'What We Left Behind' Documentary
Bit of a back story before diving into our interview with Nana Visitor, who played Major Kira on Star Trek: Deep Space Nine– >This< writer grew up a Star Trek fan when it wasn't cool. It wasn't cool to love something so nerdy, and it waaaaay wasn't cool to be a GIRL who loved something nerdy. Oddly enough, it was my mother who introduced me to Gene Roddenberry's world when I was very young, took me to my first convention where I met Majel Barrett Roddenberry, and encouraged my love of science fiction throughout. I wore a freaking Star Trek TNG fannypack almost every day in middle school, because I loved it and it meant more to me than all the bullying. I had short hair, I had an attitude against anyone who would tell me I couldn't do something, or that I was wrong for feeling strongly about things. That's how I found Major Kira, that's how I found Nana Visitor, and that's why I still to this day say that DS9 is MY Trek.
Imagine my delight in the opportunity to speak with Nana, and other members of the DS9 family about the upcoming long-gestating documentary, What We Left Behind, which will have a theatrical release on Monday May 13th thanks to Fathom Events and SHOUT! Studios, the latter holding the worldwide distribution rights for the incredible doc.
[This interview has been edited for clarity, and attempts to lessen the fangirl reactions.]
Mab: Hello Nana! I've been waiting 20-some-odd years to speak with you, this is such a treat for me. DS9 is my Trek, and Kira is my Trek Lady.
Nana: [laughs] Oh!! Well this is important then, I love hearing people say that.
Mab: In this documentary, What We Leave Behind, you actually mentioned something I've always wondered about- that Kira is pretty much written like a man, and could have easily been a male character. What that something you were aware of from the beginning, or more of a retrospective discovery?
Nana: From the beginning. The first time I read the sides at the audition, and it just said "Major Kira", and I thought maybe they'd made a mistake, that this wasn't the character. This is a male character. I'd love to do it, but it couldn't be right.
And this was at a time when I was being sent out for either the victim or the killer, or the mother, "C'mon kids, get off the couch," those were the roles I bounced around from. Then to read this, this huge personhood, this faulty strong truthful person, I couldn't believe I was getting the chance to read for it.
Mab: That certainly came across those 7 seasons, Kira was ALWAYS extremely strong, a character more aligned with the males that we had known on previous Star Treks.
Nana: Yeah, and with an incredible arc! This is a terrorist, freedom fighter, whatever side you're on, she was a guerilla fighter, and had PTSD, and went from tough to real strength over the 7 years. It was certainly a character study for me that made me grow- I thought about things AS KIRA, that I never had to deal with in my own life.
Mab: Her friendship with Sisko also, that started as this professional "I'll do what I have to do" into a real friendship was so fabulous to watch.
Nana: It was. And what made it easy was I respected Avery [Brooks] so much as an actor and as a person. Like my name, Nana, everyone said it any old way- Nana [like 'banana'], Nah-na- and I never corrected anyone, I thought 'thats what they get to do with my name'. And he was the was the first one, when he met me to ask me "How do you like it said?" I don't care, and he said "No no no, how do you want your name heard?" And I thought, my mother is French, and I could hear her calling me- NANA [like Na-NAÀ], NANA- and I said, I loved the way my mother said it. Within two weeks, not only everyone on the set, but everyone connected to the show was calling me Nana, and that's the type of human he is.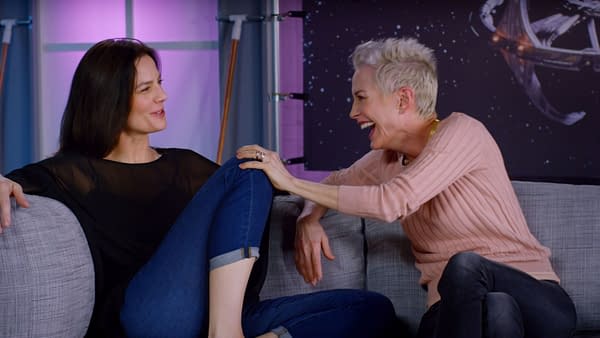 Mab: Coming to this documentary after so long after the show, was it a more organic experience of everyone coming together to chat about this subject or-
Nana: Much more organic, this show is really different than everything else because it never really ended. The conventions, friendships, I had a child with Alexander Siddig who played Doctor Bashir, I'm friends with so many of the actors, I see them all the time. So it was a conversation, a conversation with old fans, and new fans. When the series started streaming, there was a whole set of new people to meet. It's almost like being in a club. I can go to Australia, and there is something we all share, something we love and respect. It's been a part of my conversation for the last 20 years.
I never really thought of the end product, that there would be one. It was always the opportunity to get together and talk about something I loved and the people connected to it.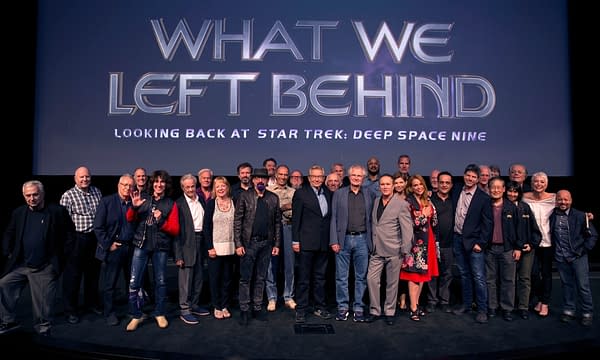 Mab: Have you seen the end product yet? The full documentary complete with the pitch for a "what if" season 8 premiere? [will do my best to keep from spoiling the result, because it's pretty damn fantastic, you guys.]
Nana: I have! I saw it once in LA, and once when they premiered it in either England or Germany, and I'll be seeing it again when the Fathom Events showing happens on the big screen [Monday, May 13th]. Being allowed in the writer's room like that, I always wondered what that was like. And the writers of DS9 were always like rockstars to me. The process fascinated me, what they came up with was exciting to me, and my immediate reaction [to the story pitch] was YEAH YEAH, LET'S GO! I'M READY!
The documentary is what the show was- pushing the envelope, and non-linear as Ira Stephen Behr calls it. It's very much what the show was.
Mab: Was there anything that came up during filming the interview segments that you were not expecting? Maybe a scene you'd forgotten about, or something you hadn't previously heard?
Nana: A lot of things, even though I was there, it was such a such an interesting perspective. I had my subjectivity to the whole thing, and to see everyone's else's take was absolutely fascinating. And I know there will be some special features they'll be releasing at some point because there was just SO MUCH, so many outtakes.
Mab: What would you tell someone, let's say, a young lady, just finding Star Trek for the first time, who sees Kira. What would you want to tell her?
Nana: You will come to see her angry, you will want to see that, it will feel good to you, but watch the whole series, her arc, and take the trip with her to real strength.
***
Thank you times 1 million to the reps from SHOUT for allowing me the opportunity to speak to Nana.
Keep an eye out for additional interviews with the cast and creative heads leading up to Monday May 13th's theatrical release of What We Left Behind.
---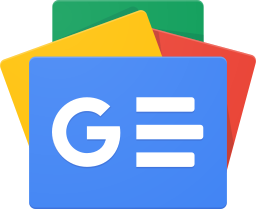 Stay up-to-date and support the site by following Bleeding Cool on Google News today!