Netflix's 'Outlaw King': Why Robert The Bruce, and Why Now?
Chances are, you've seen Braveheart, and are familiar with the name Robert The Bruce. While the film about William Wallace doesn't hold up terribly well (don't @ us, we recently reviewed the 4K release, and REALLY does not hold up), Netflix's film Outlaw King nicely slides into that historical epic slot.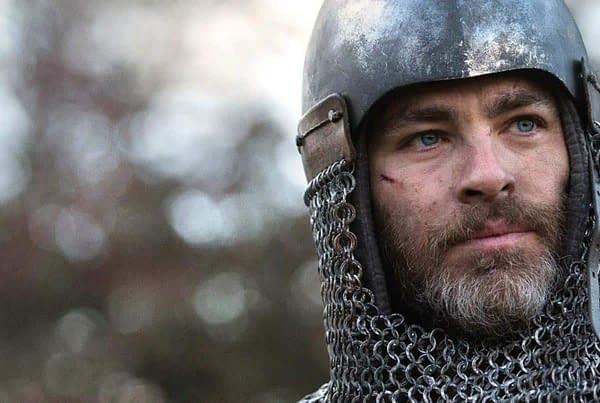 Chris Pine stars as The Bruce, and while his accent slides in and out (not super noticeably), the resulting motion picture is exactly what we were hoping it was going to be.
In a recent interview with Entertainment Weekly, director David Mackenzie (and Pine) spoke about why Robert The Bruce, and why now for this particular tale:
EW: What made you want to bring this story of Robert the Bruce to the screen?

DAVID MACKENZIE: I wanted to tell the story because Robert has kind of got lost in history. People have kind of always thought of another character — who will remain nameless at the moment — as the hero, and it felt like a weird injustice and a slight dishonesty in the telling of history. So I wanted to get in there and try and do something that was closer to reality and obviously still entertaining.

CHRIS PINE: I liked that it was really hard to pin down Robert's motivations. From all of the scholars I talked to and the books that I read, the fascinating thing about the man was that you couldn't tell where his loyalties lay and what motivations were propelling him — that to me was fascinating and made him very human. He was a mystery to most people. I found playing that slipperiness really exciting; some people might want more straight-ahead illumination of a guy, but I found that kind of ambiguity really interesting.

EW: What do you hope people will learn from this movie?

MACKENZIE: We were trying to get under the skin of 14th-century life and the idea of what it must've been like to struggle with occupation and trying to unite your own country and do all the things that Robert does in the film. I wanted to give the audience an opportunity to think about those things.

PINE: For me, the most important thing in the film is something Angus (Tony Curran) says to me when I find out what's happened to my family: "This is price you pay." That was always deeply meaningful to me. We're dealing with some major acts of violence propelled by many different ideologies — country, family, flag, nation — and there are deep, significant, real prices that have to be paid for that. It's not always pretty but it happens all over the world. Robert's a real person that did something quite extraordinary but had much destruction after it. We should take a hard look at why we do it and the people who do it.
Outlaw King hits Netflix on Friday November 9th, and we cannot suggest it enough for those who enjoy historical films. It's beautiful, brutal, and strangely heartwarming at the same time.