New Look at The New Mutants, Comic-Con At Home Panel Announced
We should start calling this the little movie that could. It keeps trying and saying "I think I can…get released, I think I can…get released" and then just doesn't. At the beginning of the year, Disney and 20th Century Studios geared up a pretty decent marketing campaign for The New Mutants for an April release. Then COVID-19 happened and the movie once again got delayed until it got a new release date of August 28th. Disney and 20th Century Studios are still making the push for The New Mutants just in time for likely another theatrical delay. 20th Century Studios released a new teaser today for the forever delayed movie and announced that they are going to have a panel for the Comic-Con at Home event that is taking place online next week.
Here is the announced panel for The New Mutants which will be available to watch as a live-stream next week.
The New Mutants | 2:00 – 2:45PM

Join Writer/Director Josh Boone and the cast of Twentieth Century Studios and Marvel Entertainment's The New Mutants, including: Maisie Williams, Anya Taylor-Joy, Charlie Heaton, Alice Braga, Blu Hunt and Henry Zaga for a discussion about the upcoming original horror thriller moderated by Ira Madison III.
Is this movie coming out next month? Probably not which is a shame but Comic-Con panels have promoted things years in advance so it's not like it'll be useless. Any PR is good PR for a project like this and maybe we'll get some interesting behind-the-scenes stuff about why this movie has had such a hard time getting to the big screen.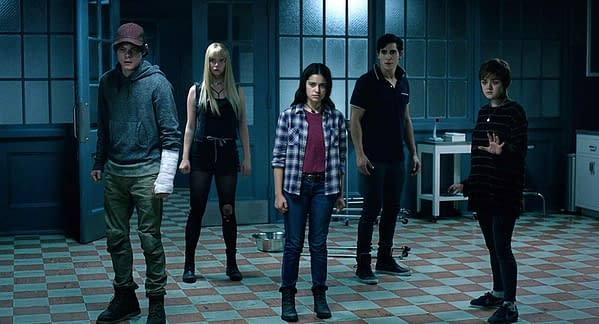 Summary: Five young mutants, just discovering their abilities while held in a secret facility against their will, fight to escape their past sins and save themselves.
The New Mutants, directed by Josh Boone, stars Anya Taylor-Joy, Alice Braga, Maisie Williams, Charlie Heaton, Blu Hunt, and Henry Zaga. It has a release date of August 28th, at least for now.