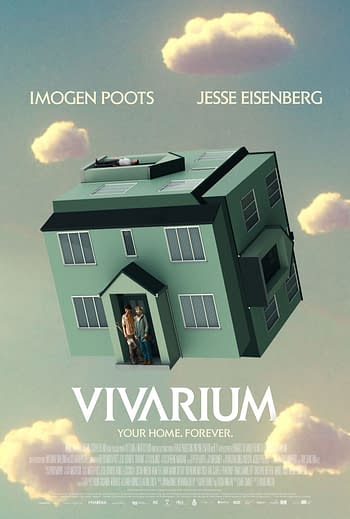 We chatted with Lorcan Finnegan, director of the new film Vivarium (due out March 27), which plays like a feature-length Twilight Zone episode that turns out to have an eerie prescience for the deserted streets of today's pandemic social isolation.
In Vivarium, as the producers describe it:
Tom and Gemma (Jesse Eisenberg and Imogen Poots) are looking for the perfect home. When a strange real-estate agent takes them to Yonder, a mysterious suburban neighborhood of identical houses, Tom and Gemma can't leave quick enough. But when they try to exit the labyrinth-like housing development, each road takes them back to where they started. Soon, they realize their search for a dream home has plunged them into a terrifying nightmare, in this taut thriller filled with white-knuckle suspense.
Finnegan talked about the meaning of the piece—he was inspired at first by the experience of young couples drawn into purchasing homes only to be destroyed financially during the 2008 financial collapse. Many of those homes were in neighborhoods that became barely-inhabited ghost towns, a vision recreated in Vivarium as Tom and Gemma find themselves the only people living in a sea of identical lime-green houses.
But it gets weirder because like many young couples already in over their heads, the mysterious powers that be dump a baby on them. Like the baby in Eraserhead, the baby is an interloping monster, a metaphor for the loss and alienation all parents feel from time to time.
But Lorcan also explains that film takes on a second, strange meaning now, as the empty streets of the neighborhood echo our own.
Listen here:
Listen on YouTube:
Check out the trailer:
Jason Henderson is the host of the Castle of Horror and Castle Talk Podcasts, the editor of the Castle of Horror Anthology series, and the author of Quest for the Nautilus: Young Captain Nemo from Macmillan Children's Books.
Enjoyed this article? Share it!