Evil Dead 4 Has Become Evil Dead Rise According To Bruce Campbell
Evil Dead fans, do you ever wonder if Sam Raimi wants just to lock Bruce Campbell in a basement so he will stop talking? Ash Williams himself has been out here talking up the next chapter in the saga, Evil Dead 4. Only It is not called that anymore. No, in an interview with Diabolique, he confirms that the film won't be going into production before 2021, that the script is being worked on right now, and that it is, in fact, titled Evil Dead Rise. "The official name is Evil Dead Rise," he confirmed in the interview. "We're getting a new draft in. I don't think anything will happen until 2021. Full bore ahead, we're very excited about it. A whole new ballgame. No more cabin in the woods."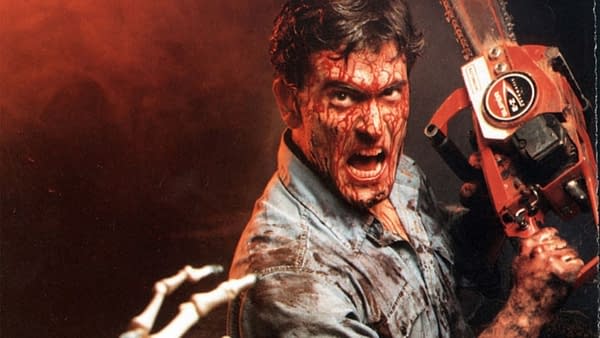 Evil Dead Fans Love How Much Campbell Speaks
Just two weeks ago, Campbell spilled the beans about the project to Empire, where he revealed the director of the film would be The Hole in the Ground director Lee Cronin. "It's called Evil Dead Now. Sam handpicked Lee – he did a cool movie called The Hole in the Ground. We're going to get that sucker out as soon as practical. From this point forward, they kind of have to stand on their own, which is fine. And liberating," says Campbell. "You could have different heroes, different heroines in this case. This ones gonna be a little more dynamic. We just want to keep the series current. And the mantra, really, is that our heroes and heroines are just regular people. That's what we're going to continue."
It sounds to me like they want to take the series into an anthology direction. It isn't a bad idea at all, and if they really are never going to continue the remake's storyline, then this would be the smart way to go. They should figure out a way to make Drag Me to Hell a weird quasi-part of the Evil Dead canon as well. Let's just tie all of the Raimi horror universes together. Hell, tie it all into the new Doctor Strange film he is making. It is exciting to think of the possibilities here as well, though. Hopefully, this new film comes together fast.