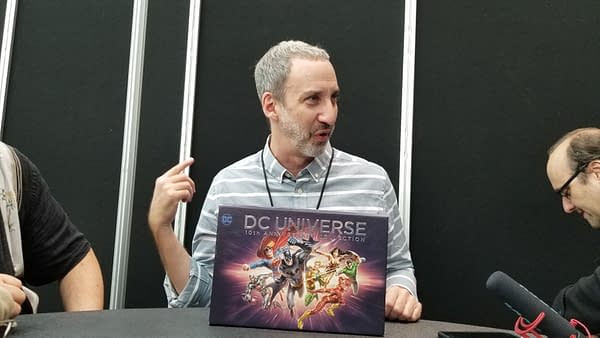 Interview Courtesy of Bleeding Cool's Kaitlyn Booth:
There are plenty of advantages that come with superheroes becoming more and more well known but one of them is a newfound sense of freedom according to writer/producer Jim Krieg. The world is different now from when you could only do stories about Batman or Superman. People know these characters now so that means they can expand.
We had to do the most obvious [stories] at the beginning and now that we know they sell we can dig a little deeper and do the ones that are more interesting to the hardcore fans. Also unearth characters that the general public was unaware of.
The huge disc set is due out November 7, 2017 and retails at Amazon for $211.39. Here is a complete list of all
the movies in the set which also includes the shorts and a bunch of behind-the- scenes features.
SUPERMAN/DOOMSDAY
JUSTICE LEAGUE: THE NEW FRONTIER
BATMAN: GOTHAM KNIGHT
WONDER WOMAN COMMEMORATIVE EDITION
GREEN LANTERN: FIRST FLIGHT
SUPERMAN/BATMAN: PUBLIC ENEMIES
JUSTICE LEAGUE: CRISIS ON TWO EARTHS
BATMAN: UNDER THE RED HOOD
SUPERMAN/BATMAN: APOCALYPSE
ALL-STAR SUPERMAN
GREEN LANTERN: EMERALD KNIGHTS
BATMAN: YEAR ONE
JUSTICE LEAGUE: DOOM
SUPERMAN VS. THE ELITE
THE DARK KNIGHT RETURNS, PART 1
THE DARK KNIGHTS RETURNS, PART 2
SUPERMAN: UNBOUND
JUSTICE LEAGUE: THE FLASHPOINT PARADOX
JUSTICE LEAGUE: WAR
SON OF BATMAN
BATMAN: ASSAULT ON ARKHAM
JUSTICE LEAGUE: THRONE OF ATLANTIS
BATMAN VS. ROBIN
JUSTICE LEAGUE: GODS AND MONSTERS
BATMAN: BAD BLOOD
JUSTICE LEAGUE VS. TEEN TITANS
BATMAN: THE KILLING JOKE
JUSTICE LEAGUE DARK
TEEN TITANS: THE JUDAS CONTRACT
BATMAN/HARLEY QUINN
Watch the full interview below. Mr. Krieg has a lot of cool stuff to say about working on films of the DC Animated Universe and shows a real passion for the work. We hope you enjoy this insight into some of the best animated superhero movies.
Enjoyed this article? Share it!