President Bill Clinton Lands A Television Deal With Showtime
Showtime has acquired the rights to The President is Missing, a soon-to-be published novel by prolific author James Patterson and his new writing partner President Bill Clinton. The project is being eyed as a television series.
Deadline reports that the former president, along with Patterson, flew out to Los Angeles and did 16 pitch meetings with various film and TV studios, cable and streaming networks, along with producers, directors and financiers. Clinton's longtime friend and chairman/CEO of CBS, Leslie Moonves, is said to have helped arrange the deal with Showtime (A CBS Corp network). Patterson is already in good with CBS with two series — Zoo and Instinct — and more in development.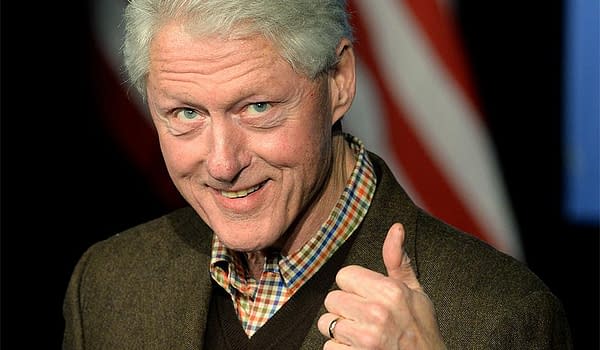 The President is Missing, which will be released in June 2018, tells the story of a sitting U.S. president's disappearance. You have to figure that no one would have a better idea of how a highly guarded president could disappear that someone who did the job for eight years. The collaboration with Patterson is Clinton's first novel and is the first time an American president has co-authored a thriller.
There is plenty of interest in stories about presidents, as we've seen with series like House of Cards and The West Wing. The idea of the president being kidnapped or attacked isn't new, either, when you remember National Treasure 2 or Air Force One. But this is definitely the first time the story is being told from someone who truly knows the job. No word on whether John Travolta will be asked to play the president…