Ralph Breaks the Internet Directors Think a Princess Spin-Off "Is an Idea Worth Exploring"
Ralph Breaks the Internet was the animated sequel of the year that just sort of came and went without that much fanfare. That likely has something to do with the fact that less than a month after it came out Spider-Man: Into the Spider-Verse came out and was all anyone could talk about. That's not to say the movie did poorly; it still made over $500 million at the worldwide box office and ranked 17th in terms of top releases in 2018. The movie just sort of got lost in the shuffle. It is out on home release and The A.V. Club shared an interview with directors Phil Johnston and Rich Moore. They talked about the infamous Princess scene and how Moore thinks that a spin-off just with the is an idea looking into.
"It has definitely had an interesting response not just here in the States, but everywhere we've gone in the world promoting the movie. When you're in Stockholm and they're saying like, 'Have you considered doing a movie just about the Princesses?' I think it's an idea worth exploring, because everywhere we go, we hear that response. 'Oh my God, I love the Princesses like that,'" Moore said. "Not just the scene with them meeting Vanellope and talking about what it means to be a princess, but then to see them in action at the end, it does feel like there's something to that — that people are finally seeing the Princesses do what you've always believed they could do, but you've never seen it before. I don't know if there's any conversations going on here seriously about [a spinoff], but we've definitely heard a lot of [reaction from fans]. The fans are off the charts with the ideas that are out there," Moore said.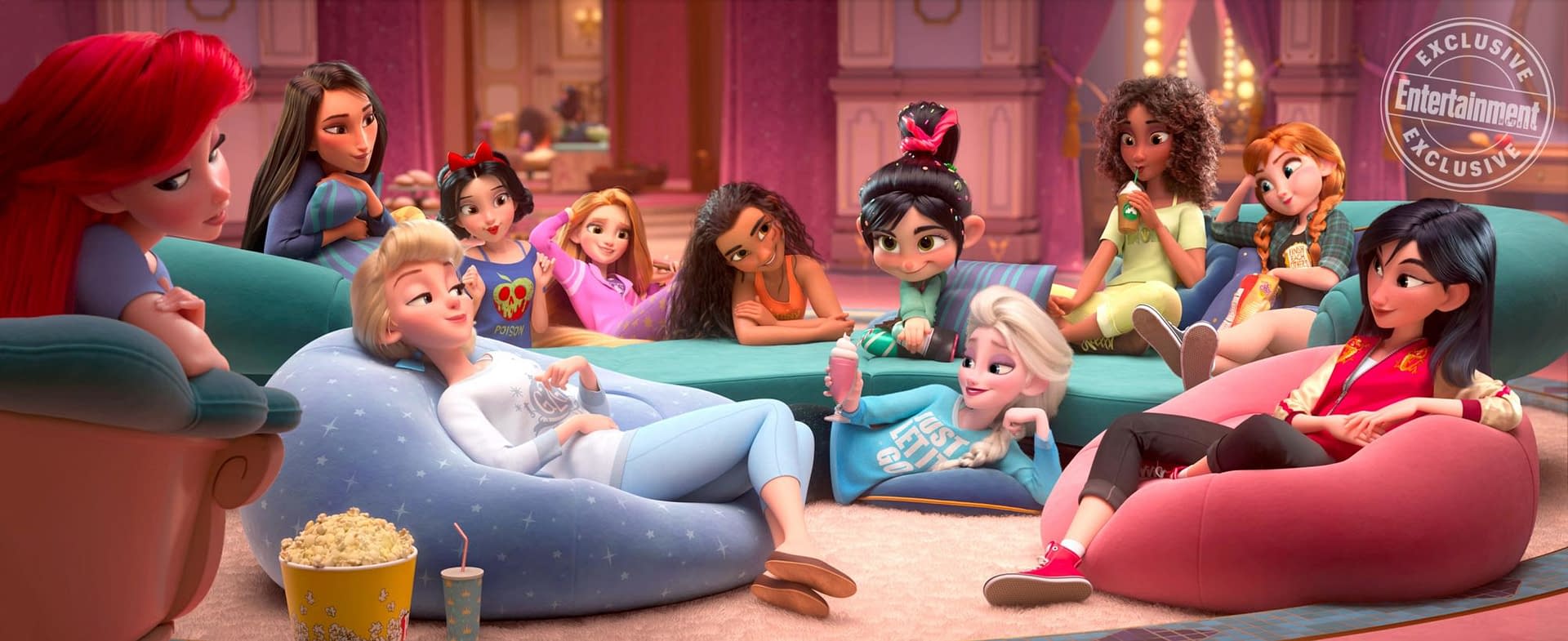 At the moment neither director knows if anyone is looking into this idea but it could be a lot of fun. Perhaps even as an animated show on Disney+? That is the type of show that could bring in a wide audience with Princesses bringing in the kids and the referential Disney humor bringing in the parents. We'll have to see but even if they don't decide to look into it that scene still exists and is probably the best part of Ralph Breaks the Internet.
Summary: Six years after the events of "Wreck-It Ralph," Ralph and Vanellope, now friends, discover a wi-fi router in their arcade, leading them into a new adventure.
Ralph Breaks the Internet: Wreck-It Ralph 2, directed by Phil Johnston and Rich Moore, stars John C. Reilly, Sarah Silverman, Jack McBrayer, Jane Lynch, Ed O'Neill, and Ana Ortiz. It's out on digital, Blu-ray, 4k Ultra HD, and DVD now.