Report: Amazon, Facebook Interested in WWE TV Rights Along With Fox Ahead of Raw 25
Following up on rumors last week that the part of Fox that Disney didn't buy is interested in buying WWE, spice-of-life-themed Hollywood trade magazine Variety reports that the company could have two more potential suitors, at least for the TV rights to Monday Night Raw and Smackdown Live. According to a report attributed to "sources," both Amazon and Facebook are interested in picking up the rights to WWE's flagship wrestling shows. Variety even goes as far as to speculate that WWE Mixed Match Challenge, the mixed tag tournament currently airing each week on Facebook Watch, could be a trial run, or that the WWE could move its shows to its own streaming service, the WWE Network.
The report, which looks overall at WWE's options when its contract with NBC Universal ends next year, and which also talks about the Fox rumors, landed some statements from WWE executives Triple H and Stephanie McMahon., denying that's going to happen any time soon.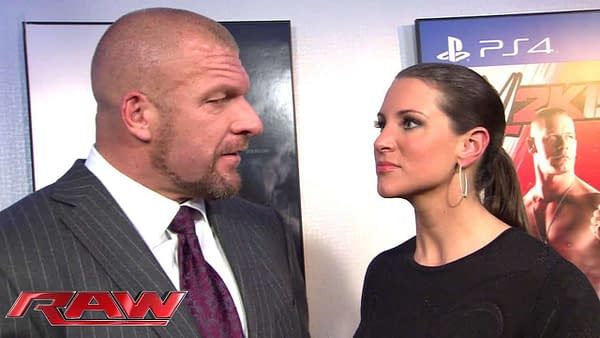 "It's an exciting time," said Haitch, with McMahon going into more detail while also not revealing anything of substance: "We are incredibly happy with our partnership with USA. In terms of what the future might hold, I guess we'll see, but we've been very, very happy and I hope NBC is happy as well."
"We leverage a content ecosystem, so at the moment, it is absolutely relevant and necessary to have [our content] on linear platforms," she continued. "It is still reaching a broad audience and it's still our most profitable line of business. One piece doesn't work without the other. Ultimately, would 'Raw' and 'SmackDown' go to the WWE Network? Maybe. But that's certainly not where we are now."
NBC Universal exec Chris McCumber praised the value of pro wrestling viewers to a TV network, saying, "WWE's audience is a real microcosm of all of America, and it really does a great job of bringing that audience into USA. It's important to be able to have that symbiotic relationship between the audience and the rest of the schedule."
It's true. WWE fans will watch WWE even if they spend the rest of the week complaining about how much they hate Roman Reigns on the internet, so it's not a big stretch to also get them to tune into crap like Chrisley Knows Best.
WWE Raw 25, celebrating 25 years of the weekly wrestling show, will air at 8PM Eastern tonight.