Let's Take a Look at Scream Factory's Texas Chainsaw Massacre: Next Generation Blu-ray
Texas Chainsaw Massacre: The Next Generation is out today on Blu-ray from Scream Factory, and they were nice enough to send us a copy to take a look at.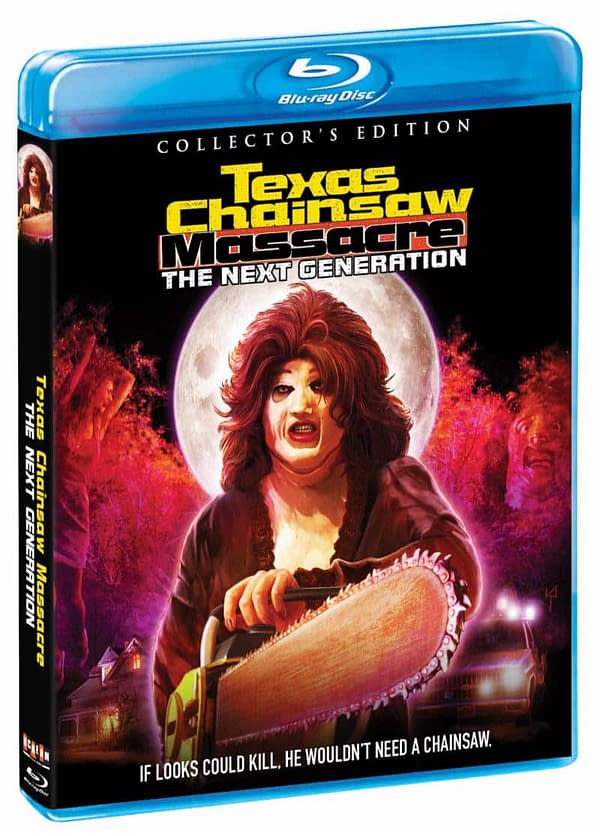 Film:🍿🍿
Well, Scream Factory does bring lots of different films to light after they have been seemingly forgotten. Sometimes with good reason. The original film is of course one of the most important films of all-time, and after five sequels in the series, maybe they should just not make anymore. While this one is one of the better sequels, it is far from being a memorable experience. Mostly, this will just always be remembered for being an early vehicle for Renee Zellweger and Matthew McConaughey. There are some neat effects and of the sequels to Texas Chainsaw Massacre, this is the best one. That is not saying much though.
Picture Quality:🍿🍿🍿
Both a theatrical cut and uncut version of the film are included on the disc, but the six minutes of footage thrown back into the uncut version is in standard definition however and makes the transitions to that footage is jarring. Bets to pop on the regular cut and enjoy the transfer. Its not bad, but it has been available before.
Sound Quality:🍿🍿🍿
The DTS-HD mix is solid. Ambient noise and dialogue is easy to pick up and registers well across any kind of system. Very little buzzing or background noises interfering with things.
Special Features:🍿🍿
This is where they dropped the ball. There is a new commentary with director Kim Henkel that is enjoyable to listen to, and the new interviews with some of the cast and crew are not bad. But listed on the back are behind the scenes footage and a still gallery, and they are nowhere to be found. While nobody is expecting the two big names to make an appearance, their absence is felt big time.
Overall, this disc is for fans of the film series only. Texas Chainsaw Massacre: The Next Generation is not a very good film at all, as a matter of fact it is bat#@%! insane to watch and one of the weirder experiences you will have watching a film. It is fun to watch with a group of horror fans and laugh through however. Grab it, and see two great actors just starting out.
If you would like to order a copy, head over here and do so.