Could a Superhero television series win an Emmy for Outstanding Original Music and Lyrics? Warner Bros thinks so as they have a 'For Your Consideration' campaign going to promote the song Runnin' Home To You from the musical episode of The Flash.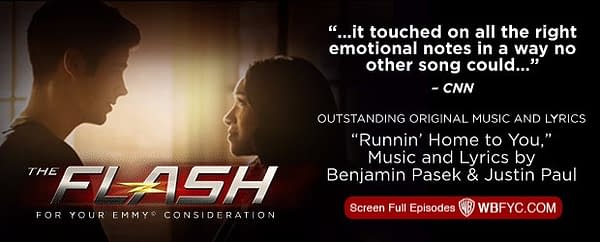 The song, written by Benj Pasek and Justin Paul was performed in the episode by Grant Gustin as Barry Allen proposed to Iris West. It was the one song that was performed outside of the world created by the Music Meister and had a lasting effect on the series going forward.
The graphic above was running on Deadline.com this morning and linked to a sign-in site where Emmy voters could watch episodes of the Flash and other WB shows. The CNN quote comes from a review by Sandra Gonzalez who said of the song:
The real treat here, though, was ballad "Running Home to You," a song penned by "La La Land" songwriters Benj Pasek and Justin Paul. It was the episode's closing number and served as a proposal song for Gustin's Barry Allen, who popped the question to Iris West (Candice Patton) despite the couple having been broken up. With lines like, "And all my life I promise to, keep runnin' home to you," it touched on all the right emotional notes in a way no other song could for the Fastest Man Alive.
It was a very touching moment in the series… even if he did just propose to try and save her life.
Enjoyed this article? Share it!