Sorry Todd Phillips But Woke Culture Didn't Kill Comedy
When it comes to being woke, the "woke culture" has yet to kill comedy. If anything, it's shown that comedians can survive if they're able to adapt with modern times.
Taika Waititi joined the conversation when he called out fellow filmmaker Todd Phillips' on Twitter. During an interview with Vanity Fair, Phillips said said he quit making comedy movies because of "woke culture."
Here's what Phillips had to say:
"Go try to be funny nowadays with this woke culture," he says. "There were articles written about why comedies don't work anymore—I'll tell you why, because all the fucking funny guys are like, 'Fuck this shit, because I don't want to offend you.' It's hard to argue with 30 million people on Twitter. You just can't do it, right? So you just go, 'I'm out.' I'm out, and you know what? With all my comedies—I think that what comedies in general all have in common—is they're irreverent. So I go, 'How do I do something irreverent, but fuck comedy? Oh I know, let's take the comic book movie universe and turn it on its head with this.' And so that's really where that came from."
Comedies still work. Case in point: Jojo Rabbit just took home the big prize during the recent Toronto International Film Festival. If Waititi weren't Jewish, the film wouldn't hit with the same edge that it does. I liken the film to the great satires in this particular genre: The Producers, The Great Dictator, and To Be Or Not To Be. I said as much last month when I wrote my review. Similarly, it is recommended that people check out The Last Laugh, a documentary that from filmmaker Ferne Pearlstein that examines Holocaust humor and why it is taboo.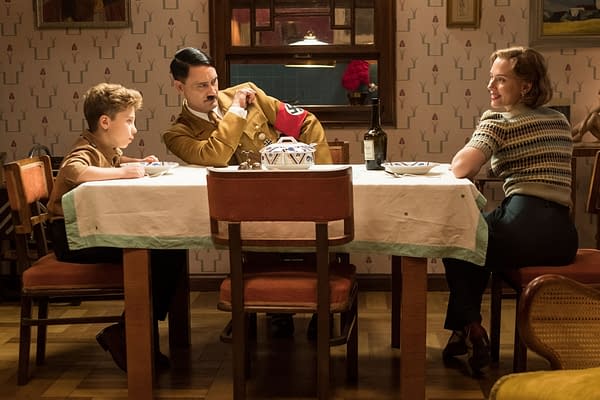 Here's the tweet from Waititi:
If you want to talk about comedy that doesn't hold up, look no further than The Hangover: Part II. The film was directed by none other than Todd Phillips himself. It also is pretty transphobic in terms of its jokes that seemingly miss on every level. If you recall, Stu (Ed Helms) has sexual relations with a pre-op transgender woman. In the film, Stu says, "I made love to a man with boobies." This is so transphobic that it's not even funny. The fact that it was released in 2011 doesn't excuse the transphobia let alone the entire plot point. Yes, this came before the trans tipping point that would take place a few years later but again, it doesn't excuse the awful transphobic humor in this film. To serve as a reminder, transphobic humor can lead to trans people getting killed!
When it comes to comedy, people can either mature and evolve or simply choose not to do so. When opting against evolving, it's why someone like Dave Chappelle repeatedly gets criticized for his transphobic comedy. When you're punching down at an already marginalized community, the material simply isn't funny. Yet every time he releases a new special, the status quo remains the same. The transphobic humor isn't funny and his zealous fans come after me online. People will use the free speech argument. Listen, nobody is taking away your freedom of speech. When one acts like an asshole, it's going to come with consequences!