"Star Wars", "The Shining", "Apocalypse Now": Why More Films Should Have Their Own BTS Features [OPINION]
One of the rarest films is the "Behind the Scenes" feature or biopic. Films like Touchtone's Ed Wood (1994) or HBO's RKO 281(1999) show the painstaking process of making films. While a traditional biopic, most of Ed Wood surrounds Wood's (Johnny Depp) struggle filming Plan 9 from Outer Space. RKO 281 chronicles how Orson Welles (Liev Schreiber) made Citizen Kane, regarded by many as the greatest film of all time. Let's look at why making Star Wars (1977), The Shining (1980), and Apocalypse Now (1979) are quality stories themselves.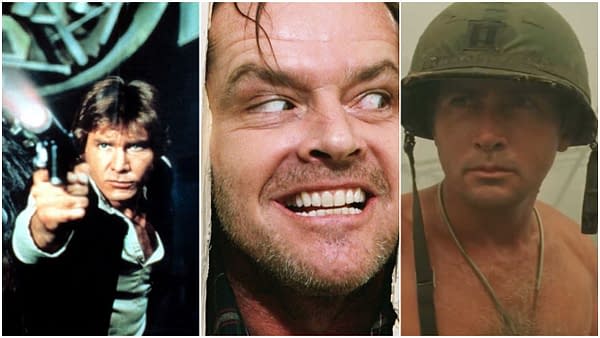 Many times, any other behind-the-scenes depictions are part of greater films like Chaplin (1992). Robert Downey, Jr. recreated Charlie Chaplin's mannerisms down so perfectly. Audiences also got a glimpse of how studios created silent films outside of a documentary setting.
Star Wars
When learning about what George Lucas had to do getting Star Wars made from the auditions, the crew not taking the film seriously, going over budget, and changes compared to the original script, the process itself warrants a compelling story. Documentaries capture the journey of the film during its making.
The Shining
Another film that developed interesting quirks is Stanley Kubrick's The Shining. From shielding Danny Lloyd from the darker elements of the film to his infamous reputation for shooting multiple takes, it becomes a fascinating character study itself to understand the mind of Kubrick.
Apocalypse Now
Francis Ford Coppola's Apocalypse Now was as grueling experience to make on its way to being the quintessential Vietnam War film. The technical issues, the long editing process, drug abuse, and dealing with the psychological impact for its actors were some of the major problems that plagued the set. Star Marlon Brando improvised much of his dialogue to reinforce his difficult and eccentric nature. Martin Sheen suffered a heart attack in his mid-30s during shooting.
When audiences get immersed in having a glimpse into the movie-making experience, perhaps a deeper appreciation develops. It's a shame we don't see more of these stories. What films do you think makes for a compelling BTS feature?