'Star Wars' Timed Release Poster by Scott C. Available NOW!
Star Wars fans, especially poster addicts, have a new piece to add to their collection. On sale now from Mondo is "Faraway Galaxy", a new poster paying tribute to A New Hope by artist Scott C. Featuring iconic scenes from the film, the poster is a timed edition with Mondo, meaning that you have until this Sunday, February 9th to order one. It is hard to decide which scene is my favorite on this poster, but I will go with The Throne Room. His watercolor art style is perfect for a piece like this, and I cannot wait to add it to my wall. Check it out below: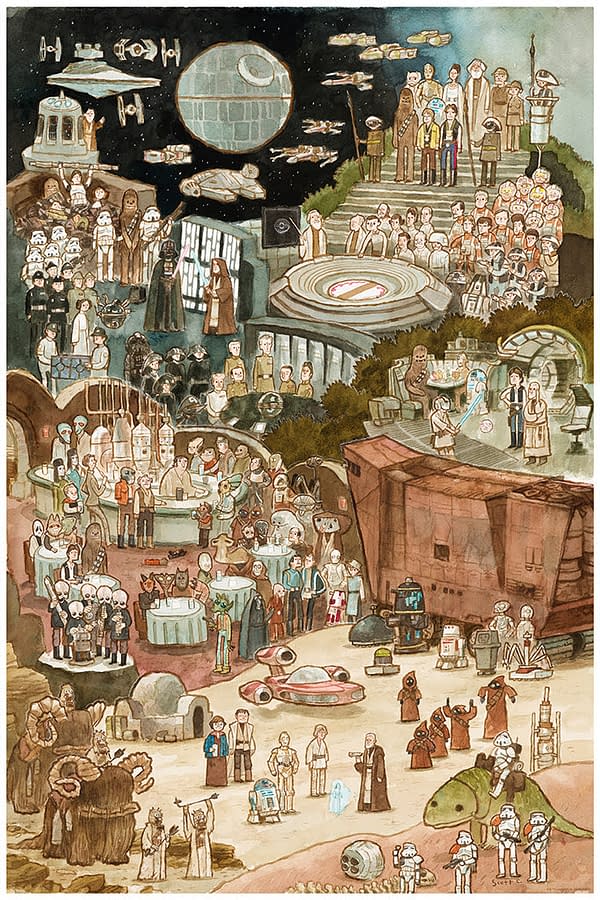 This week we're thrilled to release a poster for an all-time classic, STAR WARS, by one of our favorite artists (and human, too): Scott C!
Titled FARAWAY GALAXY, this poster is Scott's love letter to a film that inspired a generation and chronicles nearly every beat and character imaginable from the film. We've been working with Scott and our friends at Acme Archives, who we've partnered with on the release, on this poster for a few years and it's a real pleasure to finally be able to share it with you. If you're familiar with Scott's work, it's lovingly produced in watercolor and usually released as high quality giclee prints. We wanted this one to be a little different, and for the first time, Scott's artwork will be offered as an 11-color screenprint! We're incredibly proud of this one, and hope you like it as much as we do.
From Scott, "Every square inch of that movie inspired who I am today and the paintings and stories I create. Every character in that film meant something to me, even the characters passing by in the background. It is incredible to me that a film would make that much of an impression on people that fans collectively remember that there was a wolfman and a praying mantis in the bar. I have always wanted to create a painting that paid homage to every one of those characters. That is what this painting means to me. I wanted to include every Cantina patron, every X Wing pilot and Jawa. The ships were all characters to me, so it was important that they were welcomed in the family. It became quite a party, this painting. It is a place I have always wanted to live within. It was a dream realized, my friends, and I invite you to join me in this world."
You can order one of these for yourself by clicking right here.