[#SXSW] Krypton: Doomsday, Time Travel, and More
SYFY's new Superman prequel series Krypton is just around the corner, and we're learning more about what other notable DC personalities we may see on the series. During this morning's DC Comics presentation at South by Southwest (SXSW), there was some talk about just such a thing.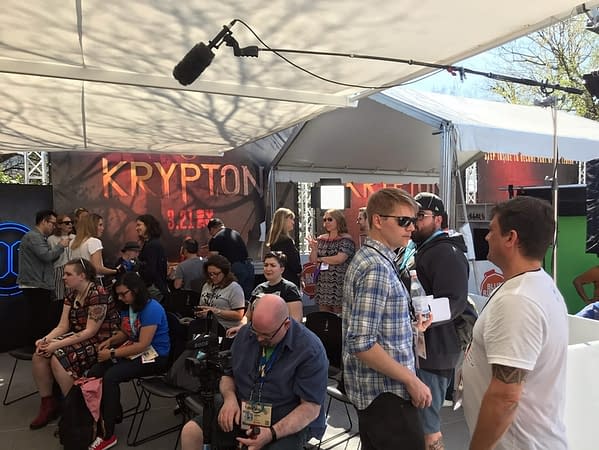 During the Q&A portion of the DC Press Breakfast at SXSW, Krypton Executive Producer Cameron Welsh along with series writers Nadira Tucker and Lena Patel spoke a bit about what we can expect to see in the SYFY series which takes inspiration from John Byrne's World of Krypton.

On the subject of Krypton cameos:
Adam Strange is a big part of the show, a proxy for the audience, the alien in this world, the inverse of this typical story. Other cameos from the DC world in the first season of the show is Doomsday … we have a few Death of Superman panels blown up in the writers room.

(Dan Jurgens: I like that!)

Brainiac is done for the first time in live action. We're happy with the way it came out.
Welsh went on to say that part of what is being explored in Krypton is "what would happen to the universe if Superman was never born." Just from the first episode alone (which we reviewed, and we'll continue to discuss at length when the show finally airs later this month) we learn that there are timeline shenanigans afoot with the arrival of Adam Strange, Doomsday, Brainiac, and the disappearing [REDACTED].

Way back at SDCC 2017, Welsh had commented about how it would work, having Superman baddies in a series without Superman:
"What we love about Brainiac is that not only is he an incredible foil for anyone he faces, but also he has a really deep history dating back to his family on Colu.

He is the nexus point between man and machine, which is a very relevant thing to be talking about now. He's a very real character."
Theoretically, we'll be getting Kryptonian versions (maybe) of both Nightwing and Flamebird. As Geoff Johns said at SDCC during the same panel, "You know, Nightwing and Flamebird are a huge part of the canon. I don't know how we can't do that."
SYFY's Krypton premieres on March 21st.