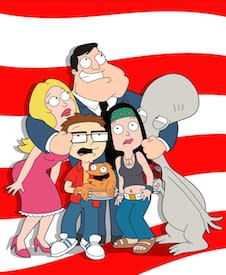 TBS is committed to American Dad!, ordering two more seasons of the animated series from Twentieth Century Fox Television, ensuring that the Stan Smith clan will have a home on the network through 2018. This includes a second home over at TBS's sister network, Adult Swim, which presents an encore of each new episode after its TBS premiere. Today's announcement adds 44 episodes to the series – 22 each for seasons 12 & 13. It marks the second time in less than a year that TBS has renewed the series. In November, the network announced a 22-episode order for season 11, which is set to air on TBS and Adult Swim in early 2016.
Created by Seth MacFarlane, Mike Barker and Matt Weitzman, American Dad! joined the TBS slate in October 2014 with the start of the show's 10th season. Since then, it has ranked as basic cable's #1 scripted series in the Monday 9 p.m. timeslot with adults 18-34 and #2 in the timeslot with adults 18-49. Overall, American Dad! reaches an average of nearly 4 million viewers per episode through its telecasts on TBS and Adult Swim, as well as through TBS's on-demand, digital and mobile platforms.
[Source: Turner Blog]
Enjoyed this article? Share it!