The Times Runs Doctor Who Story On Front Page Asking "Sexterminate." Who Fans Shake Their Heads Again.
The Times of London, also known as The Thunderer, with a reputation of a newspaper of record, have run the news that Matt Smith will step down from the role of Doctor Who with the headline "Sexterminate! Doctor Who may come back as a woman."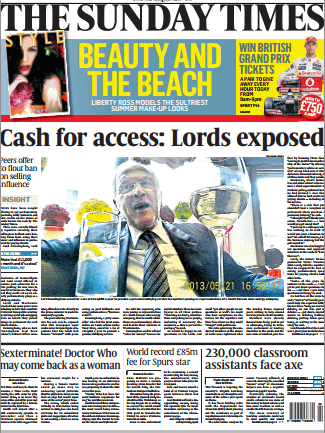 From the same publisher, here's the Sun newspaper in 2008.
I remember the same from the eighties. Basically every time we hear there's a new Doctor on the way, the British tabloids ask if it could be a woman. It's almost expected.
Just didn't know the Times was up for it now.
Mind you, with the next Doctor being the Thirteenth Doctor, not the Twelfth, that means he's also The Last Doctor and Steven Moffat gets to tell that story. Afterwards…
Well, Moffat has already shown us what happens in The Curse Of The Fatal Death. The Universe cannot stand by without a Doctor. And then… skip forward to about 7:40.
[youtube]http://youtu.be/ONVjFZdeH00?t=7m35s[/youtube]
See you in 2017. Bring your sonic screwdriver with three settings.