Tim Burton "Doubts" 'Beetlejuice 2' Will Actually Happen
We've got some bad news for you Beetlejuice fans who were looking forward to a second film. Consequently, we've got some GREAT news for you Beetlejuice fans who were NOT excited by a sequel.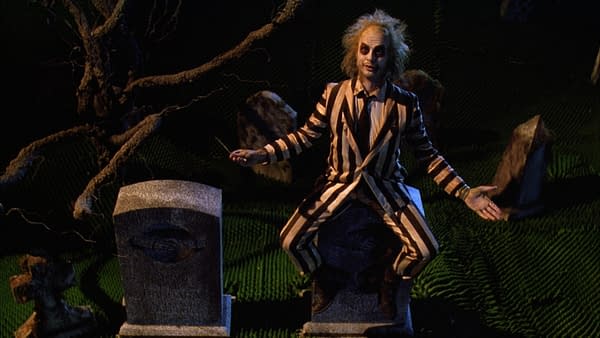 After almost two years with no updates to the possible ghost-with-the-most additional tale, it sounds like director Tim Burton is doubtful it'll ever happen.
During a recent interview to promote his live-action take on the Disney classic Dumbo, Burton answered a question about how things were going with the proposed sequel. USA Today took the built for the outlets who've wanted to ask but haven't:
When USA TODAY asked Burton what's going on with the "Beetlejuice" sequel during an interview for "Dumbo," he mumbled, "Nothing, nothing."

But is "Beetlejuice 2" going to happen?

"I don't know. I doubt it," Burton said, and waved off further questions.
Beetlejuice himself Michael Keaton also answered the question, calling the original film "lightning in a bottle" and "unique" during the same conference.
We agree, and we're semi-relieved that a sequel isn't happening.
Larry Wilson, one of the original film's writers, commented on the possibility to Bloody Disgusting, saying:
"The bottom line is, Tim Burton and Michael Keaton are not going to think about a Beetlejuice sequel unless it somehow catches the energy of the first film. And that's not easy. Beetlejuice really was lightning in a bottle. But there have been discussions since it really shocked everyone in 1988. And in terms of Beetlejuice Goes Hawaiian, wiser heads prevailed. Thank God there's a level of integrity here."
Let's go see the Broadway musical instead!