Timothée Chalamet Calls Denis Villeneuve's 'Dune' "Grounded"
Things are finally gearing up production-wise for Denis Villeneuve's Dune adaptation for Legendary Pictures. Casting is nearing completion (we think), and star Timothée Chalamet had some interesting things to say about the Arrakeen saga.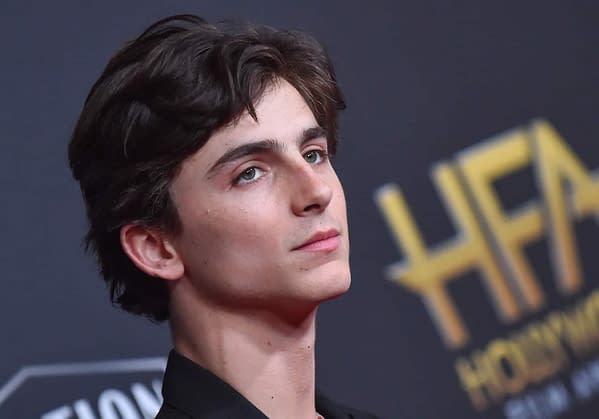 Chalamet, two-time Oscar nominee, will be playing Paul Atreides aka Usul, aka Muad Dib, the Kwisatz Haderach of the Bene Gesserit Missionaria Protectiva. Okay if you didn't understand a word of that, perhaps it's the perfect time to brush up on your Frank Herbert.
Like Chalamet did during the SAG AFTRA Awards just this past weekend. (Which we encourage for him, considering he DIDN'T KNOW WHAT FEAR WAS during a stop by Stephen Colbert's show.)
Anyhow- during a chat with MTVNews on the red carpet, Chalamet answered a few Dune-related questions.
MTVNews: I hear you're starting Dune very soon.

Chalamet: Yes, March!

MTV: How would you describe what Denis is doing with this film? Is there a way to describe his take on this influential material?

Chalamet: Grounded. Yes. Dude, I can't wait. I really can't wait. Character-based dramas are what made me want to act, but BIG movies made me wanna like, ACT, you know what I mean?
Sure, it's not the biggest update in the world, but it does confirm that production on the film is kicking off in March.
So far, Villeneuve's Dune has a pretty impressive cast- Chalamet as Paul, Rebecca Ferguson as his mother The Lady Jessica, Oscar Isaac reportedly joining the film as Paul's father Duke Leto Atreides, Stellan Skarsgard as Baron Vladimir Harkonnen, Charlotte Rampling as the Bene Gesserit Reverend Mother Gaius Helen Mohiam, and Dave Bautista as the Beast Raban Harkonnen.
We will of course keep you as up to date as we can on this particular film.
(Pssst, hey Legendary, BRING >THIS< FEDAYKIN OUT TO SET!)
Shai Hulud.