Tom Holland, Jake Gyllenhaal's 'Spider-Man: Far From Home' Friendship "Became a Problem"
Anytime a director describes an onset friendship as "becoming a problem", we get a little worried. But in this case, it was a good problem for Spider-Man: Far From Home stars Tom Holland and Jake Gyllenhaal.
In Entertainment Weekly's next issue, there is a tidbit about the upcoming 23rd Marvel Studios film, which is slowly wall-crawling in the shadow of Avengers: Endgame.

Director Jon Watts (Spider-Man: Homecoming) commented on the two actors getting along so well during filming that "sometimes they would crack each other up, and we could not get through takes occasionally. It was a problem!" [he said with a laugh]
Gyllenhaal's Mysterio is described by Watts as "almost like the cool uncle," comparing his mentorship to that of Tony Stark's in the previous films.
That's not to say there aren't some serious things happening in Peter Parker's Eurotrip. Watts said "This film is about the world telling him, 'It's time for you to step up and grow up, kid,' and he's saying, 'But I still want to be a kid and go on vacation.'"
And how about that new suit? Watt's joked about it's possible Avengers origin, "It kind of looks like Black Widow. Maybe it was one of her suits and they just tailored it,"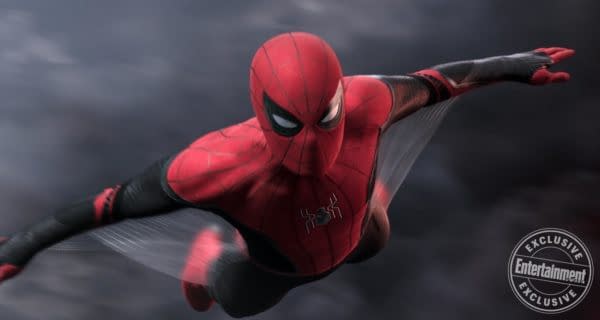 Also, what the heck does Jason Bourne film series have to do with Spider-Man, anyway? Watts explains to EW:
"We were doing a bunch of shots that looked like they were out of The Bourne Identity or some exciting European action-travel movie," Watts says. Eventually he got one of those small button-activated recorders that can capture and play back a sound, and whenever they nailed a take, Watts would blast the opening notes of Moby's "Extreme Ways".

"The button was a big thing for everyone," Holland confirms. "It became a stupid running joke that got out of control," Watts adds, laughing.
Spider-Man: Far From Home swings into theaters on July 2nd, 2019.