Tomb Raider Review: FINALLY, A Video Game Movie That Isn't Cringe-Worthy
[rwp-review-recap id="0"]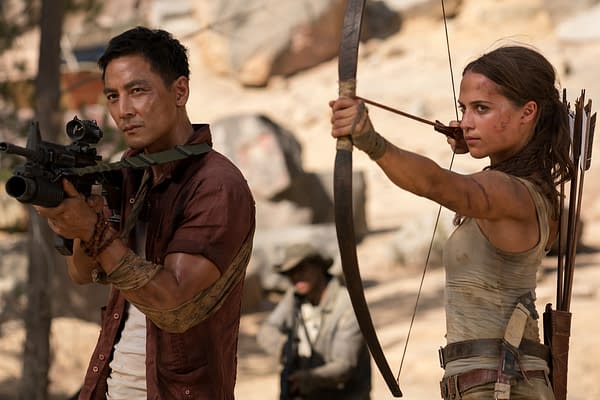 Whenever there's a huge shift from one actor to another leading a familiar franchise there's an awkward moment where we try to picture them following in the original's shoes and wondering "can they pull it off". When we heard that Alicia Vikander was going to be replacing Angelina Jolie as Lara Croft in the Tomb Raider franchise, I wasn't sure how well she would fare in the translation. Sure, I've been a solid fan of her acting chops ever since Ex-Machina which really put her on the map, but stomping around the jungle ala-Indiana Jones?
Well, not only does she completely look the part (ever since Crystal Dynamix rebooted their venerable game franchise in 2013 with a retooled and younger protagonist), but Vikander delivers one of the rarest things in genre films: a film based on a game that doesn't suck. Is it great, something that might stand alongside Raiders of the Lost Ark? Oh heck no, but it's a hell of a lot better than any Indy since Jones Jr. and Sr. found the grail. And for that matter, it's arguably better than any other game-based property that's come along.
Helmed by Norwegian director Roar Uthaug and based on a story by Evan Daugherty, it's screenplay was adapted by two complete newcomers to the scene: Geneva Robertson-Dworet and Alastair Siddons. Uthaug's previous film, The Wave, gave some tastes of the solid but still understated action sequences (relative to most contemporary action films which are mostly wall to wall explosion-fests).
This Lara isn't the best fighter in the room, she's not a superhuman ninja-spy that speaks 50 languages, she's highly capable, and scrappy. Richard Croft (Lara's father, played by Dominic West) went off on a trip to Japan seven years earlier and was never heard from again. Everyone keeps pushing Lara to sign off acknowledging that he's dead so she can claim her Christian Grey-sized inheritance. She resists because doing so would finally be admitting that he's dead. Instead of having her massive trust fund, she makes ends meet by being a bicycle delivery/messenger and is behind on her membership payments to the local kickboxing gym.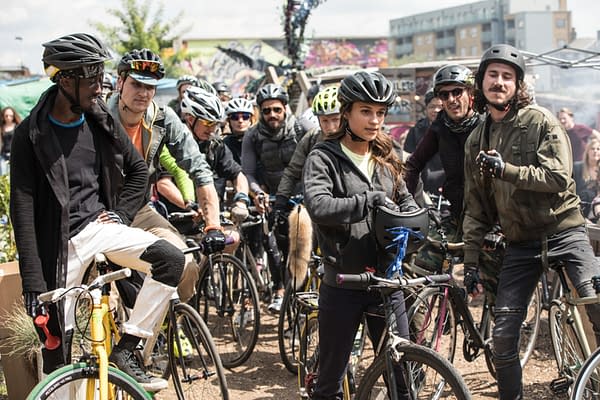 She winds up taking a bet with the rest of the cycle delivery crew to play the part of a fox in a fox hunt and a bicycle race through busy city streets that's got better tension than most of the fast and the furious set pieces (and does a far better job of obeying the laws of physics).
Uncovering some clues that suggest that her father might not be dead after all, she pawns a necklace (one of the last things she was given from her father) and sets off to Hong Kong. From there it's one clue to the next until we're on a jungle island on a hunt for the tomb of a Japanese Witch-Queen.
Not everything is perfect, as with many action heroes, damage dealt to Lara seems to be far less than that to the bad guys. She is astonishingly spry and able to climb cliff faces while dealing with a gut wound, but then when I think about the kinds of damage the last Tomb Raider incarnation was able to walk through, I can't be too picky.
The film a fun ride – is it as fun or fresh as Jumanji: Welcome to the Jungle? No, but then almost no one expected to Jumanji to be good and it surprised everyone. However this holds more closely to the spirit and feeling of the recent TR games than the other franchises could try to claim.
Sure, a number of game-based films are solid guilty pleasures, but this is one that you won't feel the need to apologize for or explain your liking for it. If you want to know what to expect, think of a mash up of Henry Jones Jr. and the old Jolie-Croft and the emotive and strength of Vikander (all in good ways), and that's Tomb Raider.
[rwp-review-ratings id="0"]
[rwp-review-form id="0"]
Tomb Raider opens worldwide on March 16th.