'Twilight Zone: The Movie' Turns 35 Years Old Today
35 years ago today, Twilight Zone Movie opened in the theaters. The 1983 feature film was directed by Steven Spielberg, George Miller, Joe Dante, and John Landis, and took it's cues from the 1959-1964 television series created by Rod Serling, The Twilight Zone.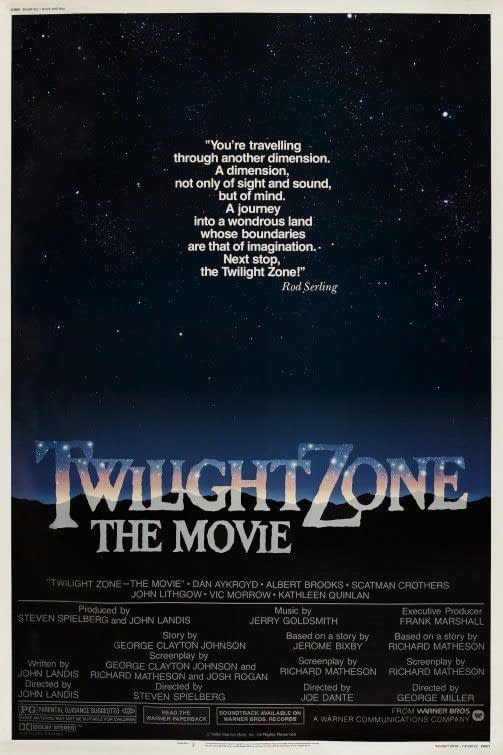 The film, in reality, is a retelling by four directors of 4 iconic stories from the original tv series. Updated slightly- meaning in this case, presented in color and with updated special effects – they are none the less extremely true to the originals.
The prologue has Albert Brooks as 'The Driver' and Dan Aykroyd as 'The Passenger', while Burges Meredith recites the familiar opening prose of the original series narration.
John Dante directed the "It's A Good Life" segment, about a young boy with tremendous mental powers, where he can make his wishes come true. Jeremy Licht plays Anthony, and Patricia Barry plays Mother. In the original episode, Billy Mummy played Anthony, and Cloris Leechman played his mother. In the 2003 reboot of the series, there was a continuation of the story where Mummy's real life daughter Liliana Mummy played Anthony's daughter in "It's Still A Good Life". Leechman reprised her role as well.
Steven Spielberg directed the "Kick The Can" segment, wherein Mr. Bloom (Scatman Crothers) is able to share his fountain of youth secrets via a game of kick the can. In the original episode, it was Ernest Truex as Charles Whitley, who believes that by acting young, he can remain young.
John Landis tackles a segment called "Time Out", which borrows from two classic episodes, "What You Need" and "A Nice Place To Visit". There are some pretty heavy moments in this section, and the originally planned ending was changed due to a helicopter crash during filming where actor Vic Morrow, Renee Chen, and Myca Dihn Lee were killed.
George Miller directed the "Nightmare at 20,000 Feet" retelling, perhaps one of the most iconic episodes of the original series with the famed "Theres, someTHING, on the wing" utterance from William Shatner who sees a demon on the wing of his airplane during the flight. In Miller's version, John Lithgow is who sees the creature.
Totally worth picking up for your home library if you don't already have it, along with the classic series.