HISTORY's original drama series Vikings has been one of our favorites since it first hit the airwaves. The show just hit its halfway point of season 5, with a hiatus until the back half 10 episodes of the season air in the fall.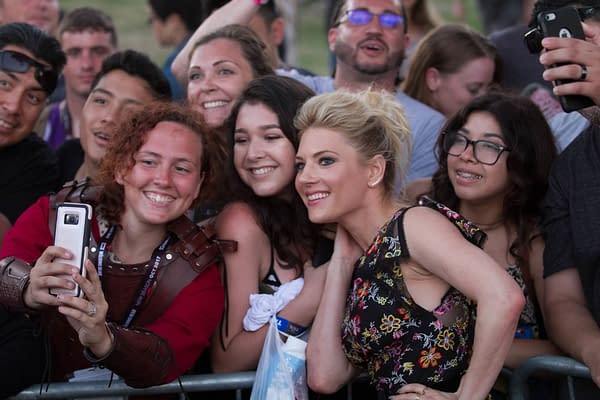 There originally was word that the series was done after season 5, but fan response (we would even go so far as to say the reception the series and stars got at SDCC in 2017 were a big part of the choice) helped convince the cable network to pick up the show for an additional 6th season.
One of the most interesting and exciting parts of Vikings season 6 is series star Katheryn Winnick is stepping into a brand new role — as director. Today on Twitter, the Queen Lagertha actress posted a short video of her first day on set, doing the job:
My first time.. 🎬 #Director #Vikings pic.twitter.com/EC6lRXYSBf

— Katheryn Winnick (@KatherynWinnick) January 31, 2018
"I'm about to say 'action' for the first time," Katheryn says. Her resulting smile is wonderful.
Yesterday, she posted this image of the clapper:
Day 1 as a Director.. 🎬🤞#Vikings pic.twitter.com/hftZyRzm3P

— Katheryn Winnick (@KatherynWinnick) January 29, 2018
Many are speculating if Lagertha will be returning in season 6, since we don't know what the end of season 5 is yet. But it sure is great to know Katheryn is still a part of the Vikings family, even if her character isn't.
Long live the queen.
Enjoyed this article? Share it!