We're all hoping that Nick Fury's (Samuel L. Jackson) piece of 90's tech from Avengers: Infinity War gets explained a little bit in Captain Marvel, right? Because there are so many questions about it, still. Why a beeper? Why did Fury wait so long to activate it? Does Carol Danvers (Brie Larson) still ACTUALLY CARRY A BEEPER?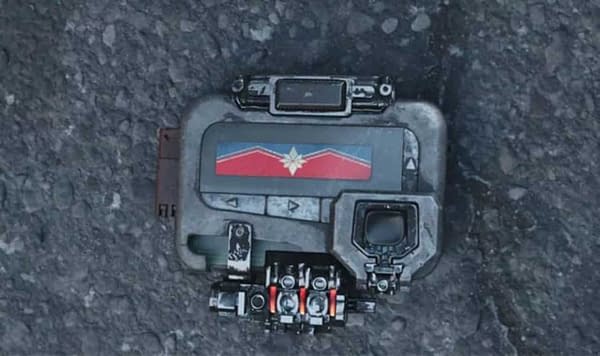 According to a tease from Captain Marvel Executive Producer Jonathan Schwartz over on ComicBook.com, we may get some of those things answered in the upcoming Marvel Studios film:
"I think it's a combination of things. I think we will understand over the course of these movies why Fury makes the decisions that he does. He's always a mysterious guy, and he always has his own reasons, but hopefully, we can clarify some of that for the audience."
Okay sure, that's not really a confirmation. But hopefully, we'll get to see the moment the beeper idea comes into to play.
Captain Marvel stars Academy Award-winner Brie Larson as Carol Danvers/Captain Marvel, Samuel L. Jackson as Nick Fury, Ben Mendelsohn as Skrull Commander Talos, Djimon Hounsou as Korath, Lee Pace as Ronan the Accuser, Lashana Lynch as Maria Rambeau, Gemma Chan as Minn-Erva, Algenis Perez Soto, Rune Temte, McKenna Grace, Kenneth Mitchell, Clark Gregg as Phil Coulson, and Jude Law.
The film is set to blast into theaters on March 8th, 2019, don't forget to help out the #CaptainMarvelChallenge.
Enjoyed this article? Share it!