Will The Doctor Be The Judge Of Time? (SPOILERS)
Bleeding Cool is bad at predicting Doctor Who arcs. Really bad. We see all sorts of things in certain issues that turn out to be mere frippery and fancy.
But the Clara theory from recent weeks seems to be holding together still.
From last night's episode, The Zygon Inversion..
Clara: So you must've thought I was dead?

Doctor: Yep.

Clara: So how was that?

Doctor: Longest month of my life.

Clara: Could only have been five minutes.

Doctor: (BEAT) I'll be the judge of time.
Well he? Will he be the judge of time?
To recap previous Bleeding Cool theory.
The Doctor's Confession is that he saw or was a participant in the final death of Clara. And since then, has been tripping along her timeline having final adventures with her.
His reaction to her death or possible death has been more pronounced because he knows she cannot die right now, even when it happens in front of his face.
This is what caused his midlife crisis at the beginning of the series with the guitar and the sunglasses. Why he has been a hugger. Why he has ditched the suit for a hoodie, his eyes hidden by the dark, he is a grim reaper, helping Clara's journey along to the afterlife.
In that time, Clara has been "killed" by a Dalek, gone to Valhalla, been told that she will die and become a ghost, and Bonnie told the Doctor that Clara was dead, we saw her in a kind of afterlife.
And suddenly the Doctor is beset by dilemmas about changing history and the impact it could have, and starts crossing his timeline like rarely before. He returns to Davros as a boy to impart the idea of mercy, so that the Clara Dalek would be able to say the word.
In Under The Lake and Before The Flood. he time travels within the story, even doubling back on himself once, as the idea of changing time and history emerge again.
In The Girl Who Died, he changes history so that Ashildr lives forever, will he be able to change Clara's history as easily?
The final series titles are Sleep No More, Face The Raven, Heaven Sent and Hell Bound… the penultimate of which will be "the first episode of Doctor Who to feature only the Doctor, without any companions or guest actors."
We've been led to believe the Doctor is facing his own death. Could it be Clara's instead? Is this his confession?
Capaldi's Doctor is King Lear. Clara is Cordelia. And Lear trying to hold on to his daughter for as long as possible, knowing she's already lost.
And in this preview image for the series… This promo image had Clara, barefoot in the Paul McCartney role, pointing down. In the original Abbey Road cover this was interpreted by many to mean that Paul McCartney had actually died.
Even the VW Beetle number plate in the background, blown up reads 29IF.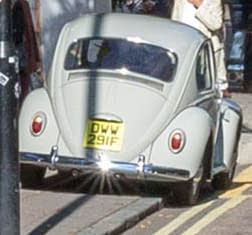 In the original the numberplate 28IF was interpreted to mean that Paul would have been 28 if Paul had lived. CLara is 29 in November…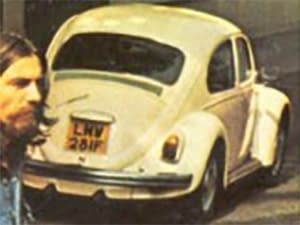 Or are we totally wrong all over again?