First of all, we'd like to state up front that we are not making this up. Today, August 2, is Dinosaurs Day (one of several annual Dinosaur-related holidays, as far as we can tell), and to commemorate this holiday, WWE has photoshopped ten photos of its wrestlers fighting dinosaurs.
On #DinosaursDay, life finds a way to pit the planet's prehistoric beasts against YOUR favorite @WWE Superstars! https://t.co/lq2ioLrKwU

— WWE (@WWE) August 2, 2017
Many of WWE's ungrateful fans, sadly, don't see these photos for the genuine cultural treasures they are:
https://twitter.com/OneMoreMachka/status/892793918554812418
— I have a cheetah named Jason (@Johnfnguy) August 2, 2017
https://twitter.com/ShxtterMxchine/status/892795903253377024
https://twitter.com/KingTre1023/status/892796222754492417
yalls booking is too shitty for you to be messing around like this, get back to work

— karen // seeing harry? (@Karen_Maslow22) August 2, 2017
https://twitter.com/NixonsLynch/status/892794652318982144
Though some people get it:
That Finn pic just looks wrong. Damn my dirty mind😂

— Tim Flaherty (@TimFlaherty823) August 2, 2017
And some people really get it:
I hope Dinosaurs gonna eat @WWERomanReigns 😂😂😂 #DinosaursDay

— Avosmarkwahlberg (@MMHCB) August 2, 2017
Obviously, these are going to become the new stock photos we use whenever we need to write a story about any of the wrestlers pictured. That means we need to upload them to the site anyway, so we figured, you should probably be aware that these exist and see them for yourselves.
So here it is. WWE Superstars wrestling dinosaurs. It's everything you imagined it could be.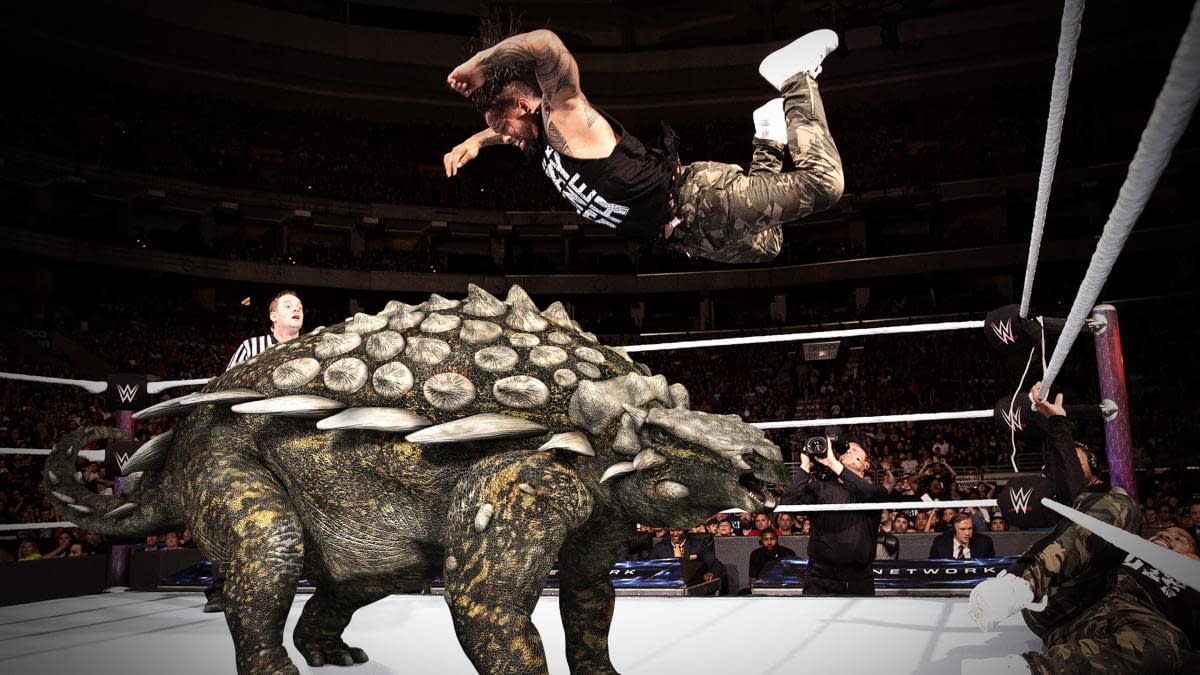 Enjoyed this article? Share it!