Updated: 7 Cars Destroyed by Arson at ALA, Cosplayer's Stalker Suspected
Update Jan 14th: Added information about Toyotome's bail amount and his arrest sheet.
What started as a smooth weekend for Anime Los Angeles (ALA) at the Ontario Convention Center turned dangerous as an individual set fire to a car in the parking lot of the adjacent Azure Hotel & Suites. The fire spread and destroyed several cars, significantly damaging as many as seven. Fortunately, no injuries resulted from the fire.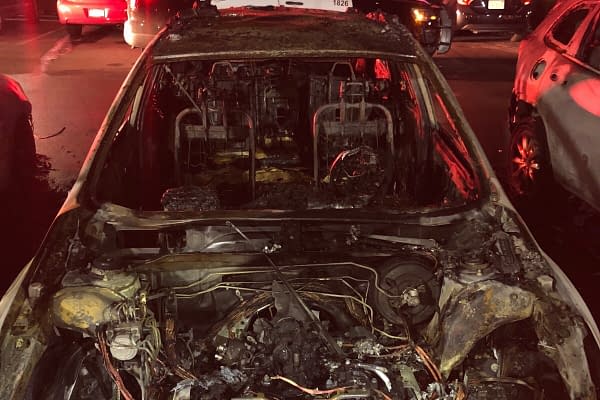 Fire department units arrived on scene within ten minutes of the fire being reported at 1:30 am early Sunday morning and had extinguished it within five minutes. Ontario Police Lt. David McBride said that on reviewing evidence, including security video of the parking lot, one vehicle had been apparently "targeted". The footage also identified Matthew Masumi Toyotome, 27, of Riverside as the suspect.
Toyotome was subsequently arrested at his home and taken into custody on charges of suspicion of arson. The targeted vehicle was owned by ALA attendee and cosplayer Julia Moreno Jenkins.
In the aftermath of the loss of her car, the local cosplay community has set up a gofundme to help in replacing it.
Jenkins boyfriend, John Hale, said that this did not appear to be a random attack, but the culmination of a year of Toyotome's allegedly pursuing and pestering Jenkins. Hale expressed that it had recently gotten to the level of Toyotome stating that he wished that she [Jenkins] were dead. When Hale was asked if he or Jenkins had reported Toyotome as a concern to event staff at ALA or any other events, he expressed that they had not until the day after the cars had been burned. However, Hale said that they had been involved in a prior restraining order against Toyotome.
The story is still developing, and at this time Toyotome remains under incarceration at West Valley Detention in Ontario charged with arson of property and stalking. He has been granted a bail amount of $250,000, but as of yet has not been able to post the amount.