Starz, Altice USA Keep 2018 Resolution to Offer Customers Less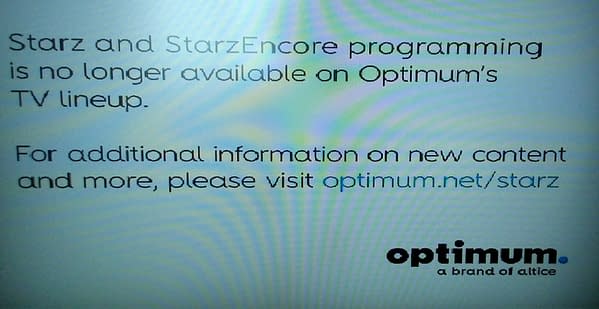 Not exactly the message I wanted to see this afternoon as I was getting ready to engage in another round of cinematic self-flagellation in the form of George Lucas' wrong-on-so-many-levels Howard the Duck, but apparently the "cable wars" between Starz and cable system Altice USA have shifted to DEFCON 3. At the stroke of midnight on January 1, 2018, Starz and Encore channels were stripped away from Altice's 4.9 million subscribers in the New York area as well as in several Midwestern states. Altice argues that Starz is looking for a rate hike level that would force them to charge subscribers more than what Starz's stand-alone streaming service costs subscribers. Starz states that it remains open to negotiations and blamed Altice for removing the channels from their systems.
Translation? If you're an Optimum customer like I am, you're starting off the new year with no Outlander, no Power and no American Gods (and it looks like no Lea Thompson for me today). Of course, for their part each side would like you to know that they are looking out for your best interests while the other side just wants to mess with your ability to catch up on The Girlfriend Experience. Here's what each side has to say for themselves:
"We are focused on providing the best content experience for our customers and continually evaluate which channels meet their needs and preferences relative to the cost of the programming imposed by content owners. Given that Starz is available to all consumers directly through Starz' own over-the-top streaming service, we don't believe it makes sense to charge all of our customers for Starz programming, particularly when their viewership is declining and the majority of our customers don't watch Starz."

– Altice USA Altice USA is planning to replace their 17 Starz-Encore channels with a mix of movie channels that include Hallmark Drama, Sony Movies, MGM HD, HD Net Movies, Flix, and Cowboy Channel; and that "certain customers" (???) will be given The Movie Channel for free. For those customers still looking for Starz-Encore, they can access their programming by subscribing directly to Starz's streaming app.
"Altice has shown an unwillingness to negotiate in good faith to the detriment of our shared customers, and they have removed Starz from their platform. We remain available to discuss a fair and reasonable agreement that will serve the interests of our loyal subscribers." – Starz
Starz argues that they are still open to negotiations and that they've recently secured similar style carriage pacts with services such as Verizon Fios and Hulu's digital channel package service. A major disadvantage for Starz is that three of their major shows (Power, Outlander and American Gods) are between seasons.