The Walking Dead/Stranger Things "Crossover" You Never Realized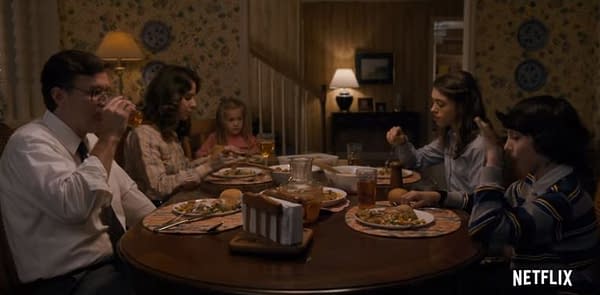 As a fan of AMC's The Walking Dead, if I read a headline like that the first think I'd think was, "Sweet! Makes sense! 'The Upside Down' would definitely explain what the hell happened to Heath after his disappearing act in Season 7's sixth episode 'Swear!'" If I'm a fan of Netflix's Stranger Things, then I'm a little scared of seeing either Negan (Jeffrey Dean Morgan) or Rick (Andrew Lincoln) in parachute pants, thin leather ties or "Frankie Says Relax" t-shirts.
Though to be honest, the idea of David Harbour's Jim Hopper as some old, seasoned walker-fighter leading a group of survivors from the Indiana area does sound pretty cool. Who knows? Maybe "The Upside Down" is where the walker outbreak started in the first place…
Thankfully for all parties involved, this "crossover" is a little more subtle, a lot less mind-scarring – and pretty damn adorable, too. Meet Anniston and Tinsley Price, affectionately known as "The Price Twins," who currently have four titles on their respective young filmographies – but it's two titles that are of most interest to geeks. In The Walking Dead, Anniston and Tinsley have each portrayed Rick's daughter Judith Grimes during the show's fourth season; while in Stranger Things, they've each had turns playing Holly Wheeler, daughter of Karen (Cara Buono) and Ted (Joe Chrest); and younger sister to Nancy (Natalia Dyer) and Mike (Finn Wolfhard).
https://youtu.be/XWxyRG_tckY
To date, Anniston has appeared in five episodes of both The Walking Dead and Stranger Things; while Tinsley has appeared in six The Walking Dead episodes and eight Stranger Things episodes. Previously, they starred as the Perfexia Toddler in CBS' sci-fi series Allegiant, starring Halle Berry and Morgan; and will also appear in 2018's Galveston, a crime drama about a dying hitman who returns to his hometown for one final act of revenge.
The Walking Dead is expected to resume the second half of it's eighth season on February 25, 2018. Stranger Things released its second season on October 27, 2017; with Season 3 expected some time in late 2018/early 2019.