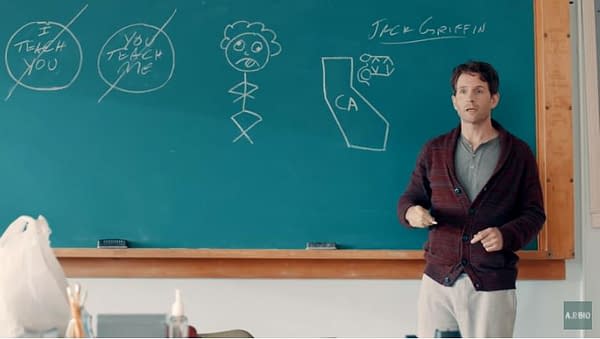 Most of us remember those teachers from our school days that helped get us to where we are today. Who can forget the teacher who would spend extra time with you after class just to make sure you really understood the day's lessons? Or the one who was gracious enough to write you that incredible letter of recommendation for college or the job you were after? Or the one you made it a point of going back to visit, so you could let them know just what a positive influence they were on your life?
So if any of those examples rings a bell, then I'm pretty sure you know what I'm talking about. Unfortunately for the students of NBC's A.P. Bio, Glenn Howerton's (It's Always Sunny in Philadelphia) Jack Griffin isn't that type of teacher – as this preview from the series shows us, Griffin doesn't waste any time making his intentions known: "My name is Jack Griffin… and I don't want to be here." And if the students are expecting one of those dramatic "Oh Captain, My Captain!" moments, Griffin has a "spoiler" on that for them, too:
"This won't be one of those things where I end up learning more from you than you do from me. I know more than all of you combined, so that doesn't make any sense."
Created by Saturday Night Live writer Mike O'Brien, SNL creator Lorne Michaels and SNL alum/late-night host Seth Meyers, you can check out the preview for NBC's A.P. Bio here:
https://youtu.be/H-61zwmoVOo
A.P. Bio stars It's Always Sunny In Philadelphia co-lead Glenn Howerton as a philosophy scholar who loses out on his dream job and goes to work as a high school Advanced Placement biology teacher but he makes it clear he will not be teaching any biology. Realizing he has a room full of honor roll students at his disposal, he decides instead to use the kids to his own benefit. Eager to prove that he is still king of the castle, Principal Durbin (Patton Oswalt) struggles to control the force of nature that is Jack Griffin.
A.P. Bio also stars Mary Sohn, Lyric Lewis, Jean Villepique, Jacob McCarthy and Tom Bennett.
NBC will offer a sneak preview of A.P. Bio on Thursday, February 1st at 9:30 p.m. ET/PT. It will then return to the same time slot on Thursday, March 1st, following the network's coverage of the Winter Olympic Games.
Enjoyed this article? Share it!