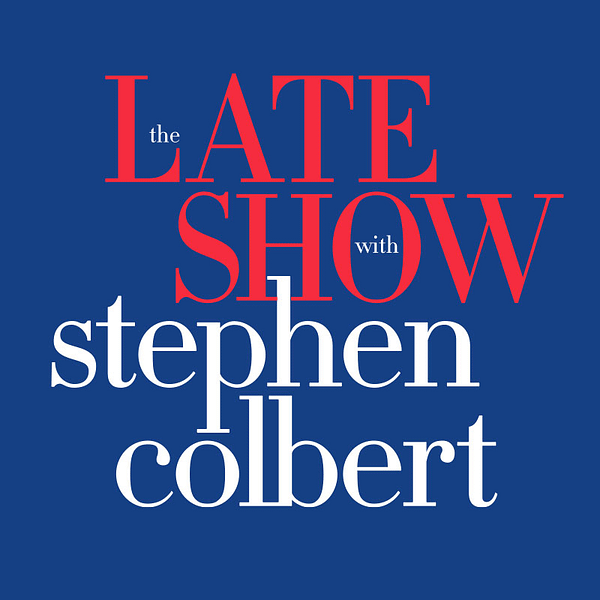 In a move that has absolutely nothing to do with his late-night war with President Donald Trump, Stephen Colbert is currently in Russia "on assignment" developing a segment for his CBS late-night series, The Late Show. The late-night talk show is in repeats this Thursday and Friday, with Colbert expected to return to the Late Show desk for a new episode on Monday, June 26.
The move was confirmed by Colbert himself after he tweeted a photo of himself in the country Thursday. The tweet and pic were about more than announcing the trip, but also in response to Trump's two tweets earlier in the day in which the President acknowledged that he did not have any recordings of ex-FBI director James Comey as he had hinted about for the past forty-plus days.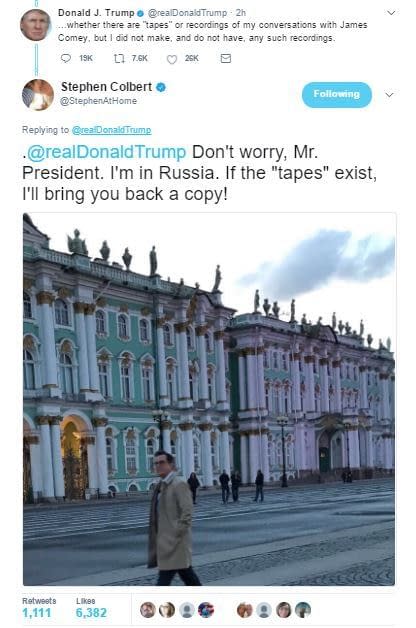 Many were concerned about whether Colbert could tone-down the politics as he made his transition from Comedy Central's The Colbert Report to David Letterman's old time slot with CBS's The Late Show with Stephen Colbert, but the show is actually finding greater success by embracing it's political foundations. Colbert hosted a week of live shows from Philadelphia and Cleveland in 2016 for the Democratic and Republican National Conventions. Heading into the 2016 Presidential Election, Colbert held a live special for Showtime on election night as well as hosting a live broadcast of The Late Show on the day of Trump's inauguration. It's a formula that's proven to be an unexpected success story and has other late-night hosts scrambling to get more political.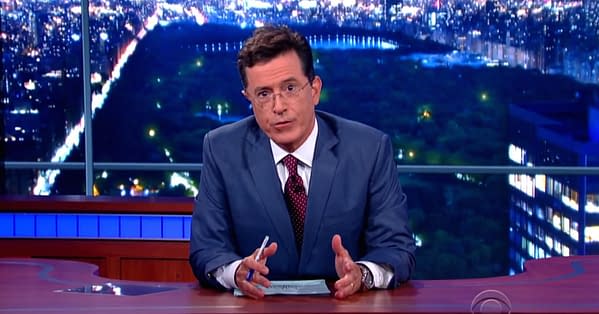 A perfect example was that the day that Comey testified under oath to Congress (dubbed "St. Comey's Day" on the show), viewers flocked to Colbert in droves that night to get his perspective on the testimony and it showed in the numbers that Deadline Hollywood reported:
Colbert's Late Show finished first in the 56 local markets. Colbert's household 2.8/7 rating was Late Show's biggest Thursday overnight rating since Colbert premiered as host in September of 2015. Late Show spiked 65% compared to same night last year and 27% from its most first-run Thursday broadcast on May 25. Colbert climbed 133% in the 18-49 demographic from a year ago in early ratings.
In comparison, NBC's Tonight Show Starring Jimmy Fallon logged a household 1.9/5, and ABC's Jimmy Kimmel Live scored a 1.6/4 with an encore episode.
You can check-out a small sample of Colbert's continued Trump skewering here:
Enjoyed this article? Share it!