'Killing Eve' Teaser Offers Look at Eve and Villanelle's Warped Relationship
In your typical spy thriller, the action usually comes down to a constantly shifting game of "cat and mouse" that leaves audiences guessing who will get the upper hand in the end. But what if there wasn't a mouse? What if the two seemingly different cats shared an equal obsession for each other, forcing them to confront just how similar to the other they might be? That's the premise behind Killing Eve, BBC America's thriller series starring Grey's Anatomy's Sandra Oh and The White Princess's Jodie Comer as the two sides of that same (and very deadly) coin.
Based on the novellas by Luke Jennings, Killing Eve showrunner Phoebe Waller-Bridge (Fleabag) also serves as head writer and executive producer. Sid Gentle Films Ltd. is producing for BBC America, with Sally Woodward Gentle and Lee Morris serving as executive producers, Colin Wratten serving as producer, and Oh serving as associate producer.
(You can check out Bleeding Cool's thoughts on the pilot script here.)
Set to premiere Sunday, April 8th at 8 p.m./7 p.m. CT, here's your first teaser look at BBC America's Killing Eve, giving us a brief yet disturbing look at the warped relationship between Oh's Eve and Comer's Villanelle:
https://youtu.be/dbe3w425o4I
Killing Eve centers on two women; Eve is a bored, whip-smart, pay-grade MI5 security officer whose desk-bound job doesn't fulfill her fantasies of being a spy. Villanelle is a mercurial, talented killer who clings to the luxuries her violent job affords her. Based on the novellas by Luke Jennings and written by Phoebe Waller-Bridge (Fleabag), Killing Eve topples the typical spy-action thriller as these two women, equally obsessed with each other, go head to head in an epic game of cat and mouse.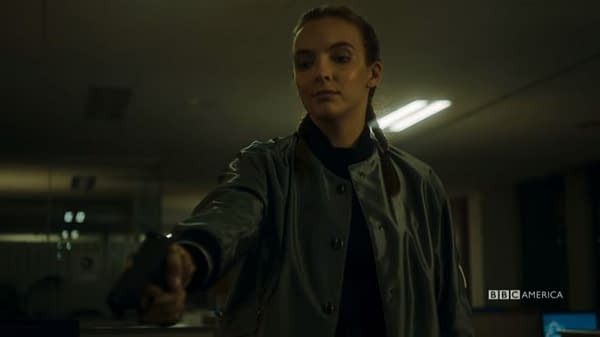 Killing Eve also stars Fiona Shaw (Harry Potter, True Blood) as Carolyn Martens; David Haig (Four Weddings and a Funeral, Penny Dreadful) as Eve's colleague Bill; Kim Bodnia (The Bridge) as Konstantin; Darren Boyd as Frank Haleton; Sean Delaney as Kenny Stowton; Kirby Howell-Baptiste as Elena Felton; and Owen McDonnell as Niko.