The Post's Meryl Streep Joins HBO's Big Little Lies Season 2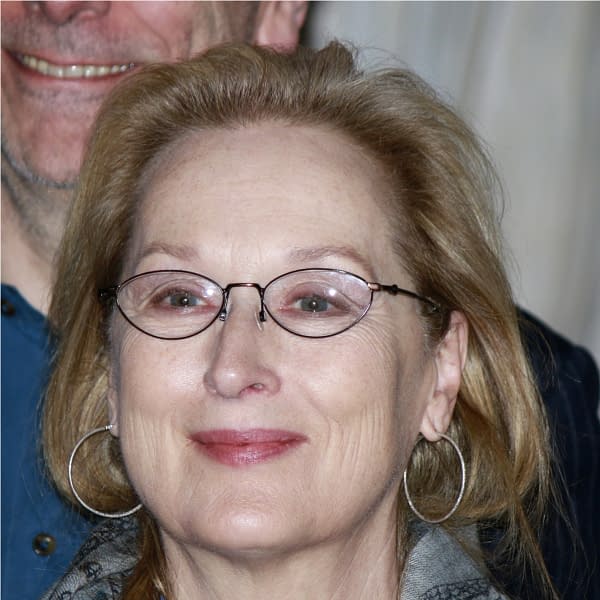 As if two Academy Award winners wasn't enough, HBO is stacking the deck for the second season of their Emmy-winning limited series Big Little Lies with none other than Meryl Streep. The celebrated actress is set to play Mary Louise Wright, the mother of Perry (Alexander Skarsgard). Concerned for the well-being of her grandchildren following her son Perry's death, Mary Louise arrives in Monterey searching for answers. Streep started off 2018 by breaking her own Oscar nomination record by receiving her 21st nomination this week for her role as Washington Post publisher Katherine Graham in The Post.
Nicole Kidman, Reese Witherspoon, and David E. Kelley are re-teaming for the newest installment, with Kidman, Witherspoon, and Kelley also set to executive produce. Kelley will write all seven scripts for Season 2, based partially on a story by author Liane Moriarty, with Andrea Arnold (Transparent) attached to direct. Emmy-winning Season 1 director Jean-Marc Vallée, who will remain an executive producer. Deals are still being finalized for most of the original cast to return, including Shailene Woodley and Laura Dern.
In the announcement, HBO promises that the return of Big Little Lies "will explore the malignancy of lies, the durability of friendships, the fragility of marriage and, of course, the vicious ferocity of sound parenting. Relationships will fray, loyalties will erode…the potential for emotional and bodily injury shall loom." For her part, Kidman is extremely confident in the creative forces helping bring together another season:
"This is inspired by the overwhelming response by audiences around the world, conceived once again by Liane Moriarty, realized by David Kelley and now in the hands of visionary filmmaker Andrea Arnold. What a journey this has been. I'm so grateful to have this opportunity to keep exploring these female characters and make this series with my friends."
Witherspoon's excited to explore the Big Little Lies universe in more depth with a new season:
"I'm thrilled to be bringing back this talented team of artists. It gives us the opportunity to delve deeper into the lives of these intriguing and intricate Monterey families and bring more of their stories back to the audience who embraced and championed them. I'm beyond excited to be working with talented and acclaimed director Andrea Arnold who will be at the helm. Andrea's unique storytelling style will be a welcome addition to the filmmaking team."