Netflix CEO "Not So Big" on Inclusion Riders at Streaming Service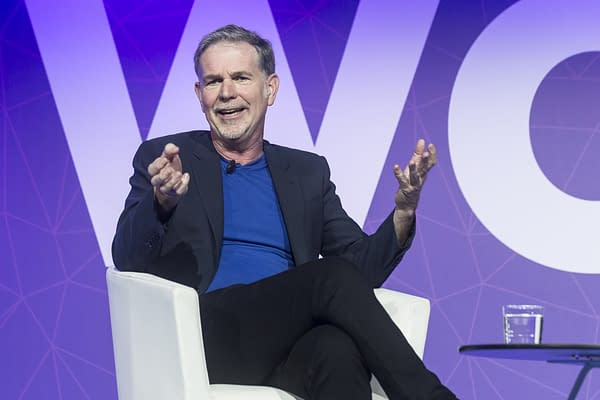 With 117 million subscribers and its ability to both buy existing projects as well as develop original content from ground up, Netflix has proven itself to be a growing influential force throughout every corner of the multimedia landscape — which is why the streaming service's policy towards adding "inclusion riders" is catching a number of people by surprise. An inclusion rider is a sentence in a contract where actors and actresses can require that a project they are working on includes a diverse cats and crew — something Netflix CEO Reed Hastings says they have no interest in doing.
During a press meeting at the Netflix offices, Hastings stated that he would prefer to see these conversations happen on a creative case-by-case basis:
"We're not so big on doing everything through agreements. We're trying to do things creatively."
So how will Netflix handle the issue of diversity on its various projects? By having officials from the streaming service meet individually with filmmakers to discuss representation on their respective projects: "That's how we look at it." Hastings did not address how what is essentially a non-binding "handshake agreement" between Netflix and creative could actually guarantee a "good faith" hiring effort.
Taking the stage to receive the Best Actress Oscar for her turn in Three Billboards Outside Ebbing, Missouri, actress Frances McDormand delivered a powerful speech asking all female nominees to stand with her in solidarity before urging everyone to demand inclusion riders in their contracts moving forward. You can see McDormand's speech — and a transcript of it — below:
https://youtu.be/-86vgvZGMs4
"So, I think this is what Chloe Kim must have felt like after doing back to back 1080s in the Olympic half pipe, did you see that? Okay, that's what it feels like. I want to thank Martin McDonagh, look what you did. We are a bunch of hooligans, and anarchists, but we do clean up nice. I want to thank every single person in this building. And my sister, Dorothy, I love you, Dot. And I especially want to thank my clan.

Joel and Pedro McCoen, these two stalwart individuals were well-raised by their feminist mothers. They value themselves, each other and those around them. I know you are proud of me, and that fills me with everlasting joy. And now, I want to give some perspective. If I may be so honored to have all the female nominees in every category stand with me in this room tonight. The actors—Meryl, if you do it everyone else will—the filmmakers, the producers, the directors, the writers, the cinematographers, the composers, the song writers, the designers. Come on! Okay, look around everybody, look around, ladies and gentleman because we all have stories to tell and projects we need financed. Don't talk to us about it at the parties tonight. Invite us into your office in a couple days or you can come to ours, whichever suits you best, and we can tell you all about them. I have two words to leave with you tonight, ladies and gentleman, inclusion rider." Netflix has walked a very interesting line when it comes to the matters of diversity and representation. Shows like Orange is the New Black, Marvel's Luke Cage, and Marvel's Jessica Jones are examples of programming that have earned the streaming service high praise for the diversity of actors, writers, and directors in some of its most popular series. Netflix continues to have a strong creative relationship with Ava DuVernay (13th), including her upcoming limited series look at the "Central Park Five" case; and recently signed Scandal's Shonda Rhimes — and her reputation for diverse casting — to an exclusive creative contract.
But in the boardroom and offices of Netflix, it's a different story. The streaming service's board is comprised of white men and a few white women, with African-Americans comprising only 4% of staff and leadership; and with Latinos comprising only 6% of staff and 5% of leadership. Comedian Mo'Nique accused the streaming service of pay inequality, demanding a boycott after noting that white comics were getting paid at a higher rate than black comics. When addressing the lack of diversity in its hiring and board representation, Black Enterprise noted: "Suffice to say, you won't find Netflix on the Black Enterprise '50 Best Companies for Diversity' list."