Discover the Spooky World Around You with American Cryptic
In this Castle Talk Episode, Jason talks to author/filmmaker Jim Towns about his new book from Anubis Press, American Cryptic – True Stories of the Strange and Uncanny. This book is available now in paperback and on Kindle. Horror fans may know Towns from his deep, knowledgeable dives into cult horror, the YouTube series 66 Horror Flix, and October Country.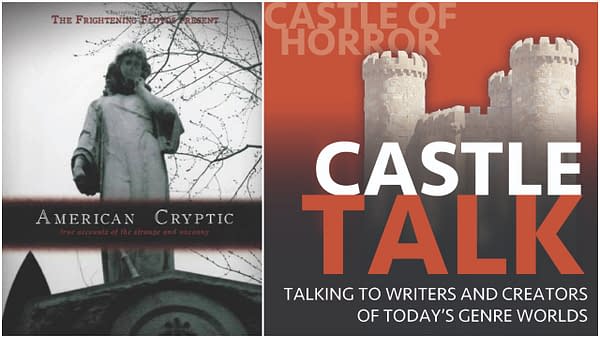 Anubis describes the new book:
American Cryptic is an open-minded cynic's take on the uncanny and sometimes frightening things that border our accepted reality. Through thirteen stories and essays, author and filmmaker Jim Towns examines several legends native to his own roots in Western Pennsylvania, and recalls some of his own unexplainable experiences as well. From folk tales of Native American giants buried under great earth mounds, to a haunted asylum, to a phantom trolley passenger, this work seeks not only to present the reader with new and fascinating supernatural tales, but also to deconstruct why our culture is so fascinated by their telling and re-telling.
Towns talks about how the book came together after he publicized several short fiction pieces in amongst his film-making.
The author tells a couple of the stories from the book, including an apparition that apparently appeared in his apartment, and the host tells his own strange story of a mysterious woman with a spinning wheel at a Dallas university.
Listen here:
Listen on YouTube:
Jason Henderson is the host of the Castle of Horror and Castle Talk Podcasts, the editor of the Castle of Horror Anthology series, and the author of Quest for the Nautilus: Young Captain Nemo from Macmillan Children's Books. His new horror novel, under the pseudonym Peyton Douglas, The Book Man, debuts in June.