'Hey Arnold!' It's Great To See You Again…In The Jungle? From Bleeding Cool reporter Adam Hart:
If you grew up in the 90's and early 2000's chances are you watched a little show called Hey Arnold!. I don't know many people in their 20's who haven't seen the show. It was a flagship Nickelodeon show. With everyone having a need to feel nostalgic lately Nickelodeon is taking advantage of it.
One of the major questions about the show was "what happened to Arnold's parents?" We have really only met his colorful grandparents. In the season 5 finale, Arnold found a notebook with hints to his parents whereabouts.
There was plans on making this movie back before the show was cancelled. Unfortunately for everyone it never happened. But luckily now it's finally going to happen. The creator had every intention on answers this burning question. He also wanted to finally show the audience how Arnold truly feels about Helga. He guarantees that this movie will answer all the fans questions.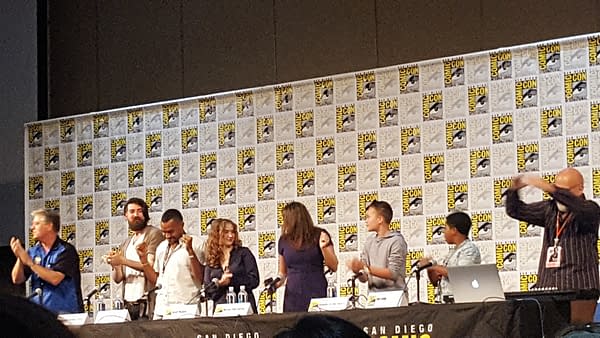 The cool thing about the original series was that the voice talent were all children. Most of the time on animated shows adults play the children. Also they all recorded together in order to make everyone feel present and in the moment. Plus it made the cast really close and long friends. Most of the time this is not done in animation either.
Unfortunately due to that pesky little thing called puberty the original voice actors who played Arnold & J aren't reprising those roles. But they will be voicing characters in the jungle. The two new kids playing Arnold & J were very articulate and full of energy. They were having fun during the panel.
A watched a few clips of the original series between his recording sessions & J binged all the old episodes. Luckily their resrarched paid off because they sound pretty similar to the original voices.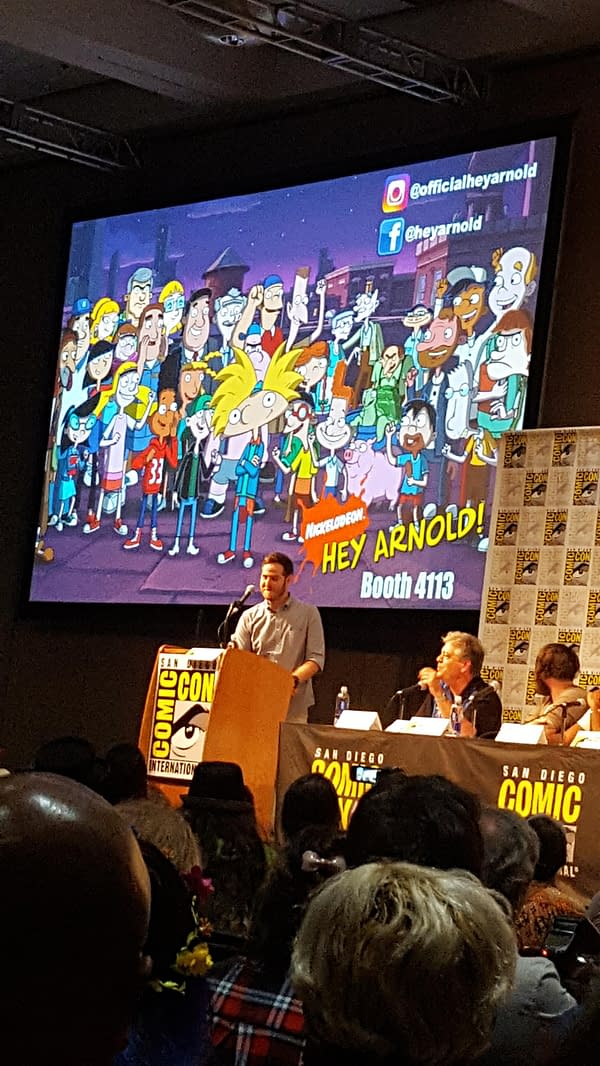 I know this because they screened a scene from the movie during the panel. The scene started as an animatic (handrawn story boards with audio) of a gloomy Arnold riding the bus. Her gets off at his apartment and his grandpa tells him someone is waiting for him on the roof. He goes up to the roof (regular animation kicks in here) and almost every character from the cartoon is up there to brighten Arnold's day. They have a video presentation of clips from the og show (taken from a different point of view) showing how much good Arnold has done for everyone in the city.
It was a heartwarming clip. I for one can't wait for November 21st to get here to watch Hey Arnold!: The Jungle Movie. Plus if the viewership is strong Nickelodeon may pickup a new season of the show. If that happens the kids will be starting the 6th grade for once. I guess we'll find out in a few months…