Reporting in from the surface of the sun, Bleeding Cool contributor Jimmy Leszczynski writes on his experiences at Comic Con Palm Springs: As the temperature creeps above 110° outside, world-renowned voice actor John DiMaggio is staying cool inside the Palm Springs Convention Center signing autographs at this year's Comic Con Palm Springs.
You might not recognize his name, but you definitely know his voice. John has been entertaining audiences with his many character voices with more than 300 credits to his name, including Adventure Time, Futurama, Princess Mononoke, and Zootopia. And now my son (who is also a huge fan) and I have come down to the convention to meet him.
His slightly gruff, bombastic voice is easily heard above the din of the showroom floor as we approach his table; he is laughing and joking with attendees and staff. As we approach his table, an organizer hands John a microphone. We wind up with front-row seats for some magic as he seamlessly slips between the voices of Bender, Jake, and Rico as he announces over the PA the other celebrities currently signing autographs. As if the Pied Piper had begun playing, heads turned and immediately the lines starts growing and snaking out from the signing tables. After a round of applause, John generously gives us a few minutes to sit down and chat with us about Aquaman, the Joker, and the role he still wants to play. I begin by gushing about his run on the Brave and the Bold, and for making Aquaman cool again. He replies:
"Thanks, that means the world to me. He was so much fun, that was just a blast. 75% of the earth is covered in water, Aquaman rules the water. That's pretty badass."
He goes on to tell us about his approach to playing the underwater hero:
"The way they drew him — the way they presented him, the way they wrote him — was that he was a very bombastic showman, although very sincere and very powerful. I mean, he does control 75% of the Planet, King of Atlantis. But they let me kinda play, and it was awesome. It was really great. The guys that wrote the show were fantastic, [James] Tucker and [Michael] Jelenic, those guys, they put it together and it was fantastic. Andrea Romano was the director, so when you get in the booth with those people, magic happens."
We then talk about his "less is more" portrayal of the Joker in Under the Red Hood, and how it is very different than any other take on the character. "I came in — they had somebody else in the role and asked me in a pinch. And so they brought me in and I don't know, listen with three men on, two outs in the 9th, you get it done. That was another Romano gig. It was really something special, and I would like to do that again, but I haven't been approached. Which is totally fine; I was lucky enough to play it once. I'll take it.

It was very, very dark — it was one of those Batman movies that was quite violent, in an animal sort of way. When you do it that way, you can do more. […] Joker is an iconic role, when you get the opportunity to play it you want to give it your own spin, and I was lucky enough to do that."
My sidekick, Li'l Jimmy, who had to this point had been a little starstruck in sitting next to a conversation with Jake the Dog, asks the man of 1000 voices what role he would most like to play that he hasn't yet. "Y'know, I'd like to get a shot at playing Batman. That's how I got Aquaman. It came down to me and Diedrich Bader, they picked Diedrich and I got Aquaman as a consolation prize, which was the greatest consolation prize ever. I would love to play Batman; that would be a lot of fun. But if I don't get to play Batman, that's all right, because I got to play Joker." Li'l Jimmy gets a handshake and a picture to show all his friends that he did in fact hang out with Bender, the Joker, Jake the Dog, and Manly Dan — all at once! He didn't wait two minutes before blowing up his friends phones with the pictures, and talked about it for the entirety of the two-hour drive home.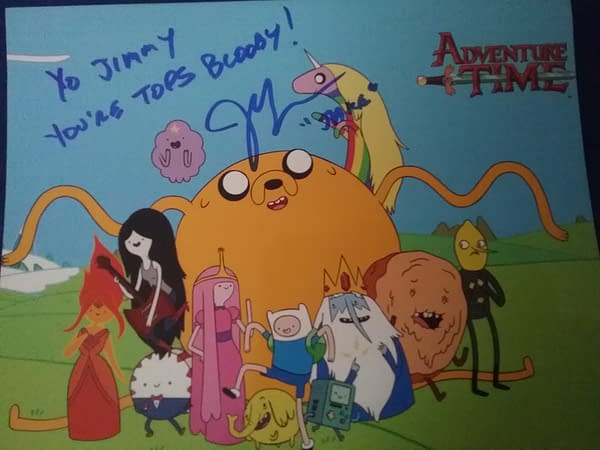 Thanks again John — you're tops Blooby, too!
Enjoyed this article? Share it!