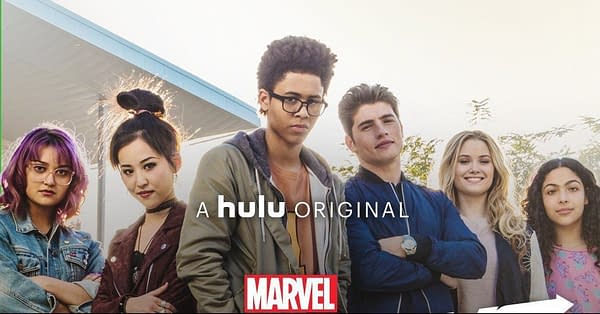 Join us as our own Kaitlyn Booth liveblogs from the Marvel/Hulu Runaways panel at the New York Comic Con.
The panel includes Jeph Loeb, Executive Producer and Head of Marvel Television.

https://www.youtube.com/watch?v=Z6_0dJkjFAM
Every teenager thinks their parents are evil. What if you found out they actually were? "Marvel's Runaways" is the story of six diverse teenagers who can barely stand each other but who must unite against a common foe – their parents. The Hulu original series is based on the Marvel comics created by the award- team of Brian K. Vaughan and Adrian Alphona. The book series has won an Eisner, a Harvey and was featured as one of the Young Adult Library Services Association's best books for young adults.
Runaways premieres on Hulu on November 21st and stars Rhenzy Feliz, Lyrica Okano, Virgina Gardner, Ariela Barer, Gregg Sulkin, and Allegra Acosta.
Marvel's Runaways is Executive Produced by series Co-Showrunners/writers Josh Schwartz and Stephanie Savage ("The O.C.", "Gossip Girl") along with Marvel's Head of Television, Jeph Loeb ("Marvel's Jessica Jones," "Marvel's Luke Cage") and Jim Chory ("Marvel's Daredevil," "Marvel's Jessica Jones.") "Fake Empire's" Lis Rowinski will produce as well.   "Marvel's Runaways" is a co-production with ABC Signature Studios.