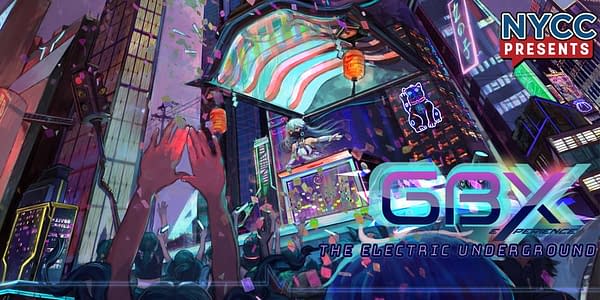 Adam Wolfe writes,
We all know that when you head to NYCC, your mind is focused on panels, signing, buying as much merch as you can hold, and basically taking in every experience the madness of the con has to offer. Most people however, pack it up when the show floor closes and head home at seven. What are you supposed to do then? I mean this is a massive gathering of people, in the greatest city in the world (cough hometown bias sorry) who all have the same interests as you. You find a rocking after party, that's what you do.
GBX could best be described as an anime rave, that you didn't have to watch anime to enjoy. This is the second event GBX has launched, and boy did they hit it out of the park. The party was located at the Space Ibiza club, just a short walk away from the convention center. The massive club sported an enormous dance floor, multiple bars, VIP sections and best of all, bathrooms big enough to accommodate the party. From the moment you walked in, the energy was turned up and contagious. Just as promised, GBX provided an amazing place for anime fans, cosplay fans, or just people who wanted to let loose and rave have a fun, safe, amazing time.
They spared no expense when it came to the entertainment either. Their two headliners were DJ Taku Takahashi, and TeddyLoid. If you are a fan of the scene, these men need no introduction or credentials, but I'm going to provide them anyway. "Taku Takahashi launched his career in 1998 as the DJ/Producer of the J-pop music group "m-flo". The group quickly rose to prominence, and over the last decade have sold over 2 million copies of their 30 singles and 10 albums. Taku Takahashi is also well known for his solo work as a producer/songwriter, remixing music for prominent artists such as Calvin Harris, The Ting Tings, Morgan Page, and SMAP, spanning various genres from all over the globe. Winning the "Beatport Music Awards 2011 Top Tracks" with his "Incoming… TAKU Remix", he has proven himself as an elite player in the Japanese dance music scene."
"TeddyLoid started his career as MIYAVI's DJ and Sound Producer by joining his world tour when he was only 18 years old. He also produced OST for the GAINAX anime "Panty & Stocking with Garterbelt" with ☆Taku Takahashi(m-flo). He has also had experience in units with Shibasaki Ko and DECO*27, he established galaxias!, he has also sound produced for Momoiro Clover Z "Neo STARGATE" and had a guest appearance in 2013 Seibu Dome Taikai. Furthermore, he has provided BGM to the anime "Mekakucity Actors". TeddyLoid has also produced vocaloid IA tracks and remixes, handled Hibiki Yoshizaki's "ME!ME!ME!" in "Anime(tor) Mihonichi", Square Enix's "Mugen∞Knights", and WRECKING CREW ORCHESTRA's, directed by Amon Miyamoto, new long production "SUPERLOSERZ SAVE THE EARTH"."
These guys, as well as their opening acts, James J Landino, Voia, and Ben Briggs absolutely killed it. They tore down the house, built it back up, tore it down again, blew my face off, picked it up, glued it back on, and every other music cliché you can write without saying "it was great." As for the visual side of things Space Ibiza provided the usual stobes, lasers, smoke, and lights you'd expect at a rave party. What set it aside however was the 20 foot LED display behind the Dj's during their entire sets. GBX provided each DJ with a custom graphics set that synced up with the music and reflected the DJ's aesthetic giving each set a unique feel. If that wasn't enough, the music was brought to you by a 4-million-dollar sound system. Every base drop felt like cannon.
All in all, GBX and Goboaino.com promised a lot, and they delivered. They have me as a loyal customer from now on, and I expect next year's anime rave to be even better. So remember, if you're looking for a place to get crazy after a con, look no further than a GBX party.
Enjoyed this article? Share it!