Descenders is the Game for Folks Who Gotta Go Fast, Downhill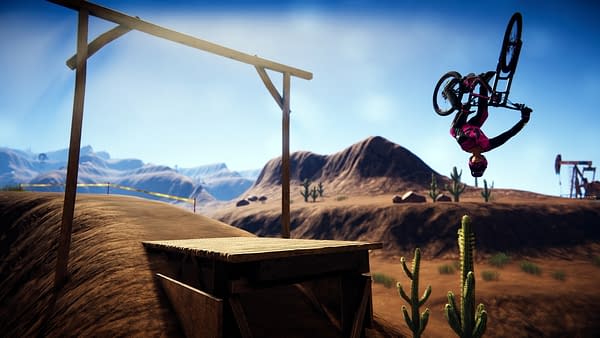 RageSquid's Descenders is essentially a game designed for people who like to go downhill very fast on a bike. And do a few jumps and tricks along the way. The game was designed to be easy to pick up, but difficult to master. And it definitely is.
The game features procedurally generated worlds, so no two maps are exactly the same. However that does mean they aren't quite as detailed as hand-crafted ones. Still, they look pretty fantastic. The physics engine is as detailed as any racing game, which means you can get some slick whips out of your bike if you're an ace at the controls. As I am not, I spent the whole PAX East demo finding new ways to kill myself BMX style. That said, the Xbox edition of the game will absolutely play as well as the PC edition. It looks just as good, if not better, and performs like a dream.
There is an online reputation system which will met you bragging rights as well as new bikes and cosmetic options for your racer. In addition, you get to choose one of three in-game teams to race for, which gives you a whole group of likeminded racers to team up with. The team with the most Reputation points will gain exclusive prizes and each team has its own discord server, which is pretty nifty.