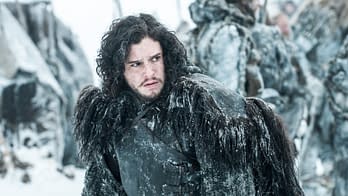 Moderator Seth Meyers asked the whole panel if the level of secrecy they're put under is intense now that the show's caught up with the books. Maisie Williams (Arya) said yes, it is. Producer Carolyn Strauss said that George R. R. Martin still talks with the show's writers just as often as he did in the past, despite the timing.
According to Williams, she wore contacts for the blind scene that were thick, wide, and uncomfortable. She's worried about doing fight scenes in the future with them in her eyes because movements will be hard to master. Fame from the show came to her gradually, so it was good for her to ease into it. Fan attention is wonderful but can be overwhelming. She's grateful for it though. Williams also said that a lot of the actors would like to work with Conleth Hill (Varys) more if they could.
Sophie Turner (Sansa) said that her character's gone through a lot of horrible things, but she's still a strong person in spite of it. Her past experiences have given her scheming skills and inner strength, but Sansa's more internal about her plotting than others are. For example, she knew she could've fought Ramsay when he raped her, but she knew it would've been disastrous if she had, so she made a calculated decision to do nothing.
Alfie Allen (Theon / Reek) said that several seasons were rough for his character, but it's nice to see that Theon made some decisive choices this past season, and it would be nice if it's possible that things could be getting brighter for Theon / Reek in the future now that he's escaped from Ramsay. He has to do a lot of acting with his eyes and body to play Theon / Reek because the character doesn't say much, but it doesn't take much preparation.
Meyers brought up that things tend to end badly for Game of Thrones characters after they hook up and wondered if things could turn horrible for Samwell Tarley, played by John Bradly, and Gilly, played by Hannah Murray. Bradley joked that Sam will probably just be happy to hook up with Gilly more often now. Previously, sex was so outside that character's realm of experience. Bradley joked that, now that Sam's had it, people won't believe him if he says he's had it. An audience member asked if Samwell would know where Benjen Stark would be, but Bradley said that Sam wouldn't know.
Director David Nutter said that it took him 10 days to direct the Season 5 episode where the Sons of the Harpy tried to assassinate Daenerys. The cast can be very upbeat and jocular between scenes normally, but they were very serious when they filmed the scene where Shireen was burned alive. Producer Carolyn Strauss added that Shireen's death was horrible but it was a good story beat dramatically. Nutter said that he feels tremendous pressure directing episodes on a show of this magnitude, including moments like the Red Wedding and Cersei's walk of shame. He's happy though, to work with the talented cast he has to work with; they make directing easier.
Strausss said that actors receive entire scripts, not just their characters' portions, but she joked that they don't always read the entire scripts anyway. Almost every last season episode is longer than previous episodes of the season by about a minute or two.
Meyers joked that, now that Margaery, played by Natalie Dormer, is in prison, maybe she can have a crossover with Orange is the New Black. Dormer said that Margaery needs a shower and a coffee, and that the character's in a sympathetic place now that she's locked up. Dormer told the audience that many of the actors are just as in the dark as fans are because the show creators keep secrets close to the vest. She feels, however, that Margaery's got to find a lot of inner strength because her grandmother's (Lady Olenna) not around to help her out anymore.
Meyers teased Gwendolyn Christie (Brienne) that she had one job—to wait for the candle, and she didn't. Christie replied that, hey, she had to stand and wait for three months for this damn candle, and it was tough, but if she could change one thing about what her character did this past season, it would be to wait longer for the candle to light up. Christie's also happy about her character's friendship with Jamie Lannister. It's rooted in mutual respect and not sexuality, and it's a modern representation of women. An audience member asked the panel which character they'd support to rule Westeros, and Christie joked that she'd back Hodor because he's a straight shooter.
Conleth Hill hoped that Varys has a good heart and core even though he's a shifty character. Hill hasn't read the Game of Thrones books, so he's been happy in the past that he didn't know beforehand what was going to happen when he was playing his character.
Meyers joked that Davos can lighten up a bit now that Stannis is gone because Stannis was a downer. Meyers also said that he and Carice van Houten (Melisandre) have known each other for 20 years. Back when she could audition for the character, she called Meyers to ask him if she should go for the role and he told her yes.
Van Houten said that she's never received so much hate from fans in her career until she played Melisandre. She's played nicer characters in the past, so Melisandre's a departure. Van Houten loves playing the character though, but unfortunately, she doesn't know what's in store for Melisandre next season because she hasn't been told. She thinks it would be nice to live in Westeros if Samwell Tarly was king.
Enjoyed this article? Share it!