SDCC '15: Hands On With Disney Infinity 3.0, As Princess Leia Taking Out An AT-AT
By Jeremy Konrad I was fortunate enough to stop by the Disney Infinity pop-up shop at SDCC this weekend and get some hands on time with the newest version of the latest in Disney's entry to the figure-based interactive game market, Disney Infinity 3.0. I am incredibly excited for this game for many reasons, but the main two are: I love Star Wars, and I love action figures. So really, I can finally say I understand the whole Amiibo craze. Having also played the previous two versions however, I did not think that I would enjoy playing the actual game itself. Previous versions had some clunky controls, lots of glitches in the graphics, and limited players on which characters could be used in certain areas of the game itself. I am happy, however, to report that I was wrong. Not only can you use characters from every previous incarnation of the game (and by the time this one has all of its play sets out, there will be over 100 playable characters), but they really seem to have put in the effort to listen to their players and work out the kinks in the gameplay. I am going to chalk this one up to the inclusion of Star Wars, it is one license that you really do not want to screw up. There will be three Star Wars play sets, Twilight of the Republic; which focuses on the Prequels and Clone Wars and features Ahsoka Tano, Obi-Wan Kenobi, Anakin Skywalker, Yoda, and Darth Maul. Rise Against the Empire, which focuses on the Original Trilogy, and features Princess Leia, Han Solo, Luke Skywalker, Chewbacca, and Darth Vader. And third set that will feature characters and settings from The Force Awakens this winter. They have also produced figures from the awesome animated series Rebels as well, and all Star Wars characters are playable in every Star Wars play set.
So it was without question that I wanted to jump on one of the Star Wars levels, and got to try out the Hoth level from the Rise Against the Empire set. When it came time to choose my character, I went with Princess Leia and away we went.
Instantly I noticed a huge uptick in the quality of the look of the game. While still in the same style as the other games, everything looks much more polished. During my time with the game there were zero glitches in the graphics and the game itself ran incredibly smoothly, and that has also spread to the controls. They are basically the same as the others as well, anyone can pick up a controller and jump right in, and that is the point, but they felt much more fluid while running around the environment and performing some of the more complicated moves. The mission I played through involved taking out three AT-AT walkers all by myself, both by climbing up the legs and then, most enjoyably, flying a snowspeeder and taking them out by tying a cable around their legs. Flying the snowspeeder, was a cinch, and I was even able to pull off a complicated move and land it on top of the walker and take control of it. At first, I did have an issue with that, but you are able to move the controller with you and retreat to a safe distance and control it from there. Boy was it fun blasting away with the duel cannons, I felt like a kid again, with a huge, triumphant grin on my face.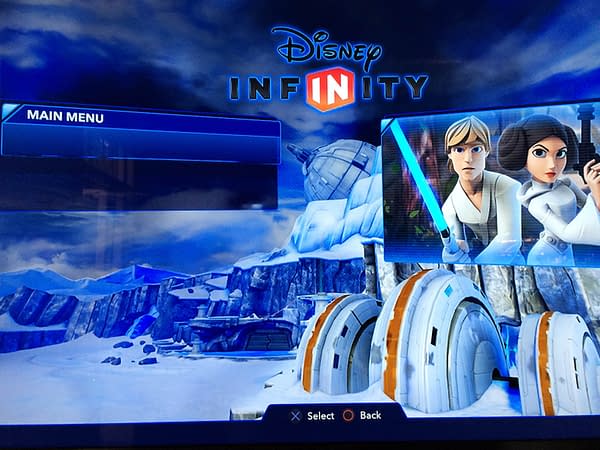 Which is the point of these games anyway. Playing in an immersive experience in any age group, having fun and running around as all of your favorite characters. Besides Star Wars, they will also have new figures and play sets featuring the likes of Tron Legacy, even more new Marvel characters, Mickey Mouse, Minnie Mouse, Olaf from Frozen, and a special play set and all five emotions from the latest Pixar smash Inside Out. So Disney, you got me. Hook, line, and sinker. This has now become one of my most anticipated games of the rest of the year and I can't wait to dive back in.
Disney Infinity 3.0 is available August 30. Look for a full game review around then.
More photos of the experience: Jeremy Konrad is the Senior Star Wars Correspondent for Bleeding Cool. Talk video games, action figures, and anything else with him on Twitter @jeremyohio