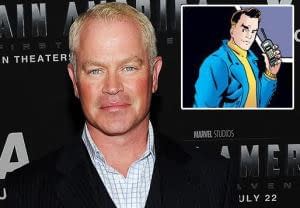 Warner Bros. announced today that veteran actor Neal McDonough will join Arrow's fourth season as the villainous Damien Dahrk, a series regular. McDonough, who's had roles in Captain America: The First Avenger, Justified, and Band of Brothers, will play the character, who was first mentioned at the end of season three.
According to a company press release:
Dahrk is a mysterious and sophisticated villain, and an adversary of the late Ra's Al Ghul. Now the leader of his own clandestine group, this cunning foe will prove to be one of the Arrow's greatest challenges.

Last season, Arrow took a dark turn as main character Oliver Queen joined the League of Assassins after his near death in an elaborate scheme to defeat the deadly Ra's al Ghul. Other tense situations included the death and resurrection of Queen's sister Thea. Arrow producers have told the media previously that the show's upcoming season will be lighter in tone than the last one. If Dahrk is as dastardly as Al Ghul was, it's unclear how the writers will portray such hard core adversary without going in the same direction they did when Al Ghul was around.
Arrow's fourth season premieres October 7 at 7/8 c on the CW network.
Enjoyed this article? Share it!