SDCC '15: The Colony Panel – The One Before The Orphan Black Panel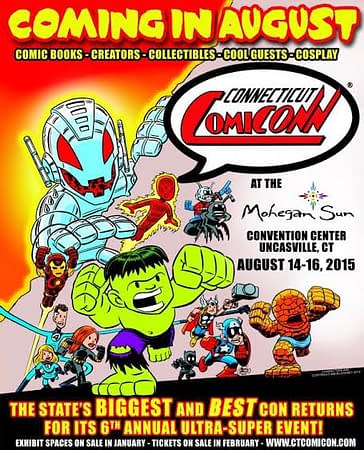 Ashley Piderman wrote for Bleeding Cool from San Diego Comic Con,
Before I got to attend a panel, explore the Con or even pick up my attendee badges, I had noticed these soldiers in red hats and flat black military vehicles driving around the convention centre. The more I was around the convention, the more I had and overheard conversations about these marketing plan. Most hadn't even heard of this, I know I hadn't, but on Friday evening, I got my introduction at the Colony panel.
I'm gonna be honest here, I only attended the panel to see the Orphan Black panel. I'm not a massive Lost fan, only picking up the occasional episode every now and again.
Colony was described as an "espionage, thriller with science fiction elements" by Carlton Cuse. During the panel we got to watch the trailer and the first ten minutes of the first episode. In the clip we see an early morning ritiual of a small family with Will being played by Josh Holloway and his wife ( Katie ) played by Sarah Wayne Callies.
We are introduced to the idea that walls have been erected around cities, and that families are divided. We learn that this family has a young son that has been separated from them and Will enlists a smuggler to get him to through the wall and find his son. All seemed clear and they get through security and then boom, massive explosion, death and Will is taken into custody.
Over the course of the panel the plot was discussed, and the basic concept was that the US in invaded one day, walls are built to separate cities, and a puppet government is installed. There was some amusing banter about who the invaders are involving whether the invaders are aliens or Canadians, hence the red hats.
The panel had a few interesting moments and I gained a new respect for Sarah Wayne Callies, her time as Lori on the Walking Dead tainted my view of her. She was the bright spot in the panel for me. Especially when a young lady stepped up to the mike dressed as Rick Grimes. She addressed this young woman as her husband and joked about stealing her husband's clothing.
It could be because I was only half interested in the panel due to my excitement for Clone Club, or the fact that I don't (legally) have access to the USA network where I live in Canada, and throw in the fact that I have "end of the world" story fatigue, but I don't think that I will be picking up this series.