It's time for all good things to come to an end and in the case of Preacher, it has been one wild ride from the first episode. The AMC show took to the Hall H stage on Friday night to premiere the first trailer for the final scene, answer some fan questions, and also showed off two new clips as well.
It took a little while but AMC eventually shared the trailer for all to see and needless to say this season looks like it's going to be just as bonkers as the other seasons.
"My great design is at work and it's going to be beautiful."

Watch the FINAL SEASON of #Preacher on 8:4. pic.twitter.com/ywMa0NsjGt

— PREACHER (@PreacherAMC) July 20, 2019
Showrunner Seth Rogan spent most of the panel throwing a ton of shade at Game of Thrones which was the panel that was in the room before.
"I know the creators of Game of Thrones didn't show up to answer questions for their show, but feel free to ask me any questions about Game of Thrones and I'll try to answer them."
The first clip they showed us has Cassidy (Joseph Gilgun) strung up on a wall. We see Jesse (Dominic Cooper) come into the room and starts to beat the absolute crap out of anyone standing between him and Cassidy. As Jesse beats the crap out of the people Cassidy watches with an odd expression on his face. He's not exactly happy but not sad or angry either. He looks almost confused like he can't quite believe this is happening.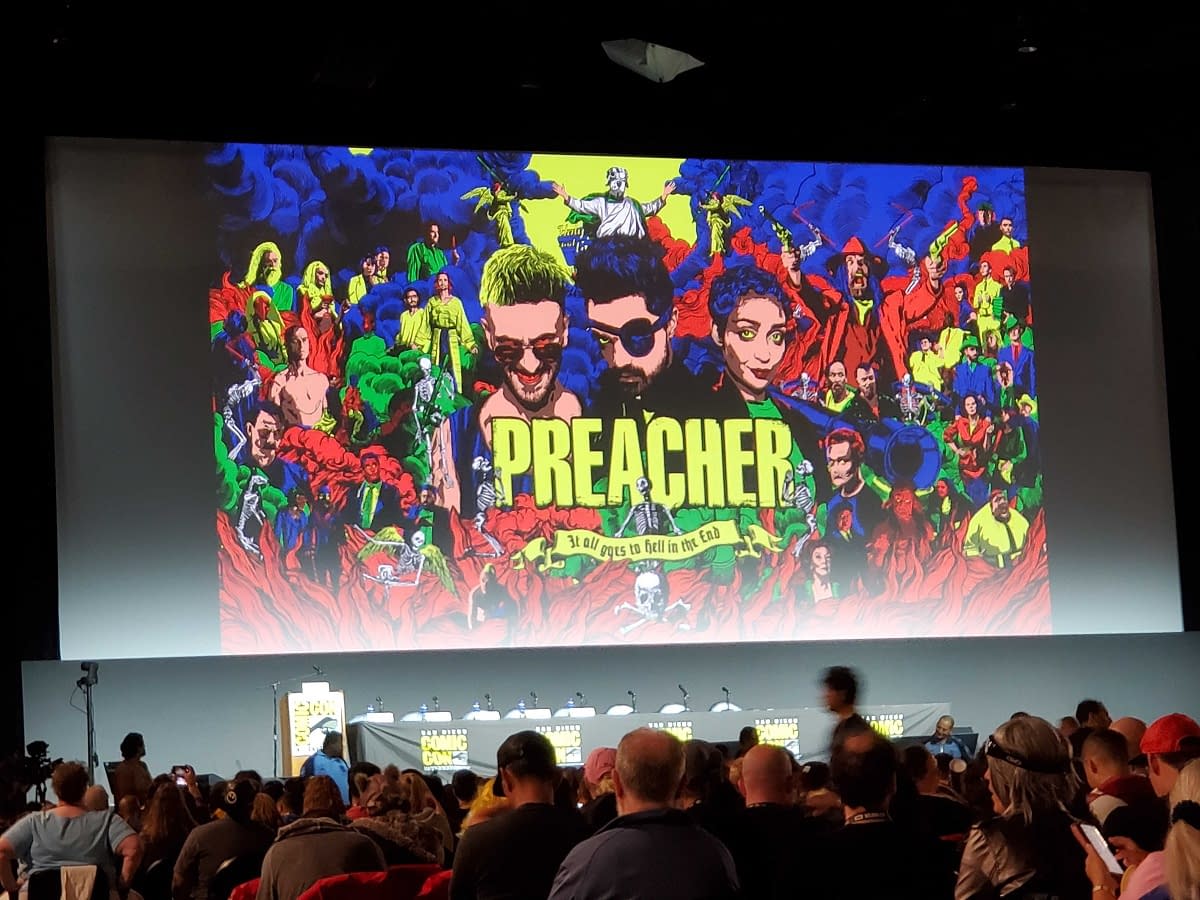 The next clip we got featured the Saint of Killers (Graham McTavish) walking down an empty stretch of road with Arseface (Ian Colletti) the street. Arseface tries to make some conversation and the two eventually stop at a diner for food. Arseface orders his food blended, much to the disgust of their waitress, and then the Saint tries to order a whiskey. The waitress tells them that they don't have whiskey and it looks like the Saint is about to get violent. Arseface orders him a piece of turtle pie to placate him.
The panel was a love letter to the show as it goes into the final season. While the room was far from full but the people that were there were clearly happy to have one more panel before the show ends later this year.
The final season of Preacher will premiere on AMC on August 4th.
Enjoyed this article? Share it!