Joseph K Schmidt liveblogged from San Diego, for the panel for The Boxtrolls by Laika, based on Alan Snow's novel Here Be Monsters!
Moderator Dave Parker introduced a featurette showcasing the making of the film. The stop-motion geniuses at Laika put an insane amount of care in this film, creating every element from scratch.
The panel then got underway in earnest as the stage saw Laika studio head Travis Knight, directors Graham Annable and Anthony Stacch, and stars Isaac Hempstead-Wright, Elle Fanningand Sir Ben Kingsley (himself making his Comic-Con debut).
Kingsley has only done a few voice roles, but he said he had a great time with this film. He said he recorded while lying down because he wanted the voice to come from the belly instead of where his comes from. "It was a very comfortable recording process."
Fanning discussed when her sister worked on Laika's first project, Coraline, and how she recalled the intense process that took about 8 years to complete.
"It's the most unbelievable thing I've ever seen in my life," she said of the work Laika has put into their films over the years, shown in the elaborate props and character models they have in storage.
They showed another clip, prefacing that it is basically dialogue free. It shows the Boxtrolls scavenging for supplies when they chance upon an old, stuffed bear. One of the main Boxtrolls, Fish, takes the bear to his adopted son, Eggs, who Hempstead-Wright plays. It is a very cute scene and shows the simple way-of-life the Boxtrolls lead.
The crew was asked what happens to the sets and characters and props when they're finished, and Knight says that a lot of it is destroyed simply in the making of the film. But the ones that survive, they become mementos for cast and crew who want to keep them.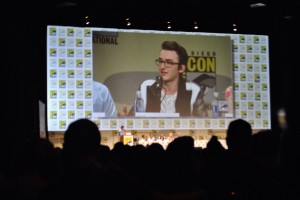 Dave Parker then turned the questions to the fans.
Asked about the challenge of making a stop-motion film, "It's horrible," Knight says. "There's no reason why we should do this thing. But on the other hand, it's beautiful. It combines everything I love: Photography, design, sculpting, painting, and acting. It's an incredible art form, it's worth the pain."
"We want to make something different every time out… but we always will have elements in our DNA for the stories that we tell," Knight answers about the studio's approach to each film.
Is voice work more limiting or freeing? "I find it more freeing," Kingsley answers. The only limits are what you can do with your voice.
"With your voice you can kind of," wait for it,"get out of the box," Manning says. Ah hah. I see what you did there.
The film will be released in 3d, without post-production conversion. The entire project has been designed for and will be shot in 3d.
After showing another clip, they turned attention to co-star Tracey Morgan and wanted to show some love for the comedian who recently suffered injuries in a car accident. Everyone slammed their chest and said, "WE LOVE YOU, TRACEY."
After several attempts, they videotaped the gesture and are sent it to him.
Enjoyed this article? Share it!