Jacques Rivette's Out 1 And The Psychic Scars Of Paris – Look! It Moves! by Adi Tantimedh Adi Tantimedh writes,
Heartsick over Paris after the attacks last week, I'd been thinking of other ways to remember the city. This brings me to Jacques Rivette's legendary Out 1, possibly Cinema's greatest urban legend.
Out 1 is one of those endless movies that threaten to drive you mad, and it is very, very Parisian. An eccentric twenty-something man receives notes that takes him all over the city searching for members of a mysterious conspiracy that may or may not exist. A con woman steals a series of letters that seem to come from members of that conspiracy. Two theatre groups rehearse separate avant-garde productions of Aeschylus plays. The characters' quests take them all over Paris and their stories start to weave together.
If all that sounds overly whimsical in the way the worst arthouse movies get, maybe it does, but there's something else. Rivette's movies have recurring themes, about theatre, about role-playing and the fluidity of identity, about the undefinable mysteries of a city that keep some things unknowable, about the malaise lurking behind a city's façade of normality that can give way to danger and menace. The search for the secret society gets more and more eerie. The theatre groups' experiments drive the actors to desperation, theft, betrayal and mental breakdown as some of its members may be involved with the secret society that casts a shadow over everything. It's like Grant Morrison's The Invisibles without the wacky Science Fiction or special effects but rooted in urban reality. Rivette shot the movie guerrilla-style on the streets of Paris and the scenes of pedestrians in the background stopping to watch the actors gradually cast their own spell, creating an atmosphere of surrealist disquiet that adds to the movie itself. It's like the ultimate French New Wave movie, even starring actors who came up in the New Wave like Jean-Pierre Léaud, Juliet Berto, Bulle Ogier and directors like Eric Rohmer and Barbet Schroder. It's full of literary references and allusions to politics and social events, with the fallout of the May 1968 protests looming in the background. Paris is not a romantic, glamourous city of Technicolor movies but an almost purgatorial limbo where everyone is adrift and strange things threaten to erupt.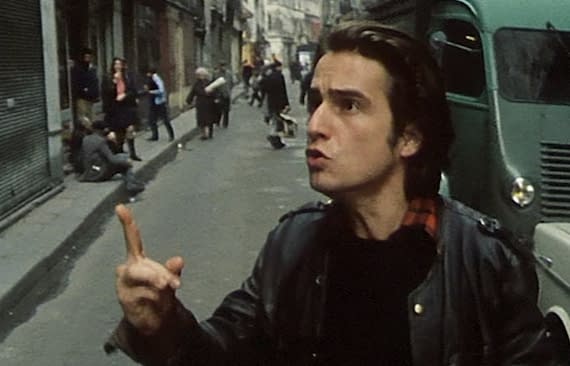 I first heard about Out 1 when I was a teenager getting into the French New Wave. Neither version was in circulation at the time so it was virtually impossible to see them. That just added to the mythology of Cinema and Paris that was built up in my head. Out 1 is considered one of the biggest Holy Grails of movie fans, its legend amplified by its absence. Rivette's movies are a love letter to Paris. They present the city as a state of mind, a surreal space of literary history and political resistance where people were free to pursuit whatever whims they felt like right next to something nasty that might happen if they ran into it and poked at it too much. And the real attack on Paris gives this an added context. New psychic scars have been burned into the city's psyche and added to its psychohistory now. The real terror of violence and uncertainty has returned to the city since the Terror years of the 18th Century and the Second World War. The city has a history of siege, persecution and terror on top of being one that celebrates art, literature, romance, tolerance and progressive politics. It seems Rivette understood something fundamental about the city, and spent his entire career making movies delving into that unfathomable mystery that's accumulated in the fabric of the city through its history. For all the pain and shock and confusion of last week's terror attack on Paris, I suddenly find Rivette's movies, while nowhere as violent or horrific, help put things in perspective.
Out of circulation for decades, Out 1 was originally eight 90-minute features titled Out 1: Noli me tangere, a kind of movie miniseries that was rejected by French television before Rivette recut them into a four-hour version called Out 1: Spectre. I haven't even seen the long version yet. Now restored, the DVD of the complete version and the shorter version don't come out till January. The shorter version is currently out on the arthouse circuit.
Paris Belongs to Us at lookitmoves@gmail.com
Follow the official LOOK! IT MOVES! twitter feed at http://twitter.com/lookitmoves for thoughts and snark on media and pop culture, stuff for future columns and stuff I may never spend a whole column writing about.
Look! It Moves! © Adisakdi Tantimedh